Millions Strike Against Gender-Based Violence A Day After Violent Women's Day Marches
A planned labor strike on Monday in Mexico and Argentina followed global protests for International Women's Day.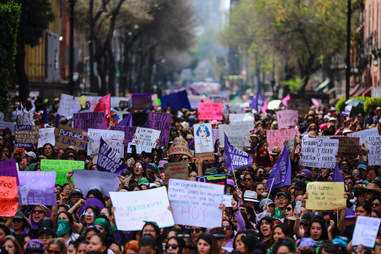 General view during a protest on the International Women's Day in Mexico City, Mexico, on March 8, 2020.
Millions of women in Latin America are striking against gender violence, harassment, and discrimination on Monday — one day after violence erupted at marches across the globe for International Women's Day.
In Mexico City, more than 80,000 women reportedly arrived for a demonstration — one of the city's largest in years — to draw attention to the rise of femicide, or gender-based killing. Footage from the protests show flags burning and a fire bomb explosion on a holiday with roots in the 20th-century labor and socialist movements that is now formally recognized by the United Nations. 
In other countries including Turkey, law enforcement fired tear gas at protesters who were blocking the street, and police in Chile used water cannons to deter protesters, many of whom were singing the feminist anthem "A Rapist in Your Path." Rallies in Pakistan and Kyrgyzstan were also reportedly met with violence; in the latter country, men in masks reportedly attacked some of the women. 
A fire bomb explodes during a protest on the International Women's Day in Mexico City, Mexico, on March 8, 2020.

| Getty Images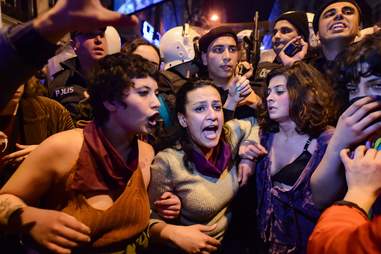 Turkish anti-riot police officers push back women during a rally marking International Women's Day on Istiklal avenue in Istanbul on March 8, 2020.

| Getty Images
The Women's Day protest in Mexico preceded a planned strike in the country on Monday, for which some major employers, including Walmart, gave women the day off. Other employers including Ford, banking and media company Grupo Salinas, and baked goods company Bimbo have expressed support for the demonstration. The strikes are focused on gender violence, harassment in public spaces and discrimination at the workplace. They're also designed to draw attention to two recent, brutal killings of a 7-year-old girl and 25-year-old musician.
Women in Argentina were also expected to strike on Monday. 
Women with masks shout slogans during protests as part of the International Women's Day on March 8, 2020 in Santiago, Chile.

| Getty Images
Supporters of the Pakistani Islamic political party Jamaat-e-Islami (JI) hold placards as they march during a rally to mark the International Women's Day in Lahore on March 8, 2020.

| Getty Images
Latin America is home to 14 of the 25 countries with the world's highest femicide rates, according to the United Nations. Femicides in Mexico have increased by 137% over the past five years, according to Reuters reported citing government statistics.
In some countries, including China and South Korea, public events were canceled because of the novel coronavirus outbreak. Thousands showed up to marches in other parts of Asia, including Thailand, Indonesia, and the Philippines, according to Bangkok Post.