Michelle Obama, Melinda French Gates, and Amal Clooney Launch 'Initiative To Support Girls' Education
'Get Her There:' a new initiative aims to help young girls around the world receive a quality education.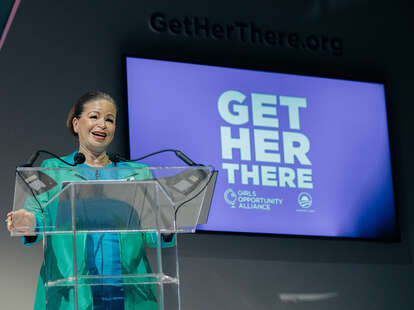 "This is our issue. This is not just a global issue. This is not just a women's issue. And if we sit on the sidelines and continue to say that it's not my problem, whether it's on women's issues, child marriage, or voting any rights, we will continue to see them backslide." - Michelle Obama
According to a famous proverb, "If you educate a man, you educate an individual, but if you educate a woman, you educate a family/nation." Research shows that educating girls makes them less likely to marry young and more likely to lead healthy, productive lives. Yet, around the world in 2022, girls continue to face innumerable obstacles towards getting an education. Be it extreme poverty, discrimination, racism, cultural practices, violence, or period stigma, over 100 million girls around the globe are without proper access to schooling.
This alarming number prompted Michelle Obama, Amal Clooney, and Melinda French Gates to join forces through their respective foundations to support girls' right to an education. At an invitation-only event at the Manhattan Center on Tuesday, the former first lady promised the new initiative, 'Get Her There' 'launched under the Girls Opportunity Alliance within the Obama Foundation would help get girls, 'anywhere [they] can dream'. According to Obama, 'When girls don't learn, we all suffer.''
Describing what success looks like for the new campaign, CEO of the Obama Foundation Valerie Jarrett, told NowThis backstage, "Part of what we do with the Obama Foundation is tell stories. And when you hear the stories of these remarkable young girls who have had support from us and from the organizations that we find, and you see the difference in the trajectory of their lives, that's what success looks like."
Those stories took center stage as Marsai Martin, the host of the day's event, introduced dozens of young girls from across the world who shared their personal trials and tribulations of what it is like trying to get an education in countries like India, Kenya, Uganda, Cambodia, Guatemala and even the United States.
Jarrett told us, 'We have funded 54 projects in 20 countries around the world, and we know we're making an impact but more importantly, we're just getting started…'So many people are surprised when they hear that there are a hundred million adolescent girls around the world who aren't in school,' she continues 'So, first, we're educating people, and then we're encouraging people to get involved, provide financial support, expertise support — look in their own communities and see how they can make an impact to lift up those best practices and take those around the world."
One of the first to the stage was Vilma Saloj, director of the Maia Impact School in Guatemala, where less than 20% of Indigienous women graduate from high school. The Maia school helped 269 girls graduate from high school, and Saloj hopes the Girls Opportunity Alliance can help more girls become teachers, accountants, or even presidents of Guatemala one day.
From there, Betty Mulbali and Clare Akuma shared how their experience with ableism was a giant roadblock to overcome in order to receive a standard education and schooling. Miriam Kimani followed with stories of young girls being forced to drop out of school and marry in Kenya. The high school scholarship Miriam received helped her avoid the same fate as her peers. Now, as a student studying civil engineering at Lafayette College, Mariam stands as a living testament to how education not only builds better futures, but saves lives.
Tuesday's event underscored that success is not only possible for every girl across the globe, but necessary. "When young girls receive access to standard and secondary education, it is the first step to eradicating a long host of systemic issues that harm our communities," Jarrett said 'That is why the campaign plans to fund more than 100 organizations working to improve girls' education around the world, while also supporting 12 additional community-based organizations that work to provide access to education in countries such as Colombia, Kenya, India, and more."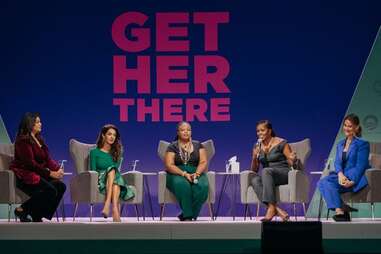 She continued, 'Not only would girls not marry, but they also wouldn't have children before they're ready. And we know that children at the wrong age are a barrier to entry into the job market and into economic security. We know we have to alleviate poverty and if girls have a good education, they can go out there and work in wonderful companies, start their own companies, be contributors to the economy, be economic engines in their community.' Jarrett echoed the mission and overall girl of 'Get Her There,' saying, 'When we lift up girls, we lift up everyone.'
She stressed the role men must play as well. 'This really has to be a unified approach. When girls succeed, everyone succeeds. And we need men who are in positions of power to help us remove those barriers. We need boys to respect girls and treat them the way they would want to be treated themselves.'
Melinda Gates, co-founder of the Bill & Melinda Gates Foundation, echoed Jarrett's sentiments around true allyship. 'I'm tired of meeting with presidents and prime ministers and finance ministers, and let's be honest, most of them are guys, who keep saying, 'Oh that's the nice-to-do issue. We'll get to the women's and girls' issues when there's time,'' she said. 'No, this is the central issue of our time. If you put a girl or a woman at the center of the agenda, what I know and I've seen and I've researched … she will change not just her family, but her community, her society, and her economy around her.'
Amal Clooney, co-founder of the Clooney Foundation, described how gaining access to an education forever rerouted the person she was. "I was born in the Middle East, where girls don't often have the opportunity that I had,' she said. 'My parents were able to leave a war zone in Beirut, Lebanon, and we were able to move to the UK, and it's the education that I got there has led to my ability to practice law and has led to everything that has followed from that.' She emphasized how, for every young girl who is blocked from receiving an education, society is set back from advancement. "Over a 100 million girls are out of school, over 10 million are forced into child marriages, and that has consequences from each girl who is not able to pursue her dream. Who knows how many of the 10 million girls could have gone on to find a cure for cancer.'
Jarrett told us there is no linear way to bring systemic change. 'There is not one solution,' she said. 'We have to approach it from multiple different dimensions. We have to avoid young girls getting married too soon, having children too seen. We wanna make sure that they have mentors, people who look like them, who are doing well, and are contributing, and are successful. We need to make education more affordable. We have to make it a quality education. We have to be teaching our young people to prepare for the jobs of the future, not the jobs of yesterday, and we have to encourage innovation. We want our young girls to be out there exploring the infinite possibilities that await us and inventing things that are going to improve the lives of everyone around the world. So, there's so much we can all do, which is why we have to get her there.'

For more information on how you can help young girls receive greater access to education and opportunity, visit:https://www.obama.org/girlsopportunityalliance/get-her-there/