Michigan Schools Weave Cognitive Behavioral Techniques into Post-Pandemic Education
A new CBT program in Michigan's Van Buren Intermediate School District could serve as a prototype for effectively coping with prolonged uncertainty and fear amid COVID-19.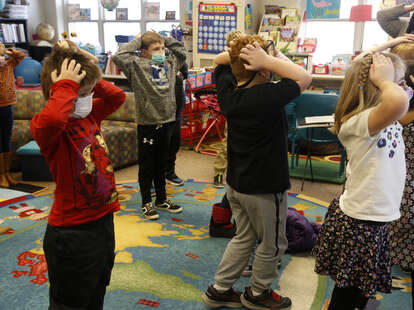 A Michigan school district is responding to pandemic-related stress and other disruptions to normalcy — such as the devastating Nov 30 shooting at Oxford High School — by introducing cognitive behavioral therapy to classrooms.
First pioneered by Dr. Aaron Beck, an American psychiatrist, psychopathologist, and Emeritus Professor at the University of Pennsylvania, cognitive behavior therapy encourages adaptive behavior to address underlying negative beliefs.
The purpose of CBT is to teach individuals who over-identify with their maladaptive thoughts to reframe their perceptions in more effective, and often times, more factual ways, a practice which experts refer to as "cognitive restructuring." According to The Beck Institute for Cognitive Behavior Therapy, an international hub for CBT training and resources located in Philadelphia, Pennsylvania, the "emphasis [of CBT] is also consistently on solving problems and initiating behavior changes."
Behavior specialist Eric Clark, who assisted in implementing the University of Michigan program called "TRAILS" (Transforming Research Into Action to Improve the Lives of Students) at Paw Paw Early Elementary, observed that negative thoughts and feelings among kids have spiked since resuming of school, as they are feeling "completely overwhelmed, they just don't want to do it anymore."
"I think we're starting to see some of the effects of the past few years. The extra stresses of not knowing what's next and not knowing if we're going to have school because we have too many cases or not knowing if another variant has come in or not knowing if somebody has a job still," Clark added.
Paw Paw schools' curriculum director, Corey Harbaugh, noted that seeing social-emotional learning come to fruition and truly flourish in schools is something of a baby-steps process. "If you come to look at our school, social, emotional learning and Paw Paw, we're not serving up a gourmet meal here. We're in the kitchen, there's flour everywhere, the eggs are broken and you know, we've got things in motion and the ovens are heating behind us. We're trying to figure it out. And we're going to keep at it."
"TRAILS" founder, Elizabeth Koschmann, singled out Harbaugh's observation, quoting it in a tweet alongside a link to the Associated Press's coverage of the program. She added, "Tremendous #TRAILS partners in Van Buren Co." Her bio underscores the program's missions to "make effective mental health services accessible in all schools."
Thanks to COVID relief and state funding, combined with a staunch belief in academic success through mental well-being among school officials, the program is taking flight across schools in Michigan's Van Buren Intermediate School District, where instructors coach students and employees in every grade to better understand the porous relationship between their thoughts, emotions, and behaviors, and how to channel them in adaptive and meaningful ways. There are also suicide prevention sessions and more focused lessons for students coping with depression, anxiety, and trauma.
Nearly 700 U.S. schools have contracted with "TRAILS" to receive support and embrace the program. According to the "TRAILS" website, roughly 90,000 students have benefitted from its programming, a number that is continuously expanding as other TRAILS initiatives commence in Colorado and Massachusetts.