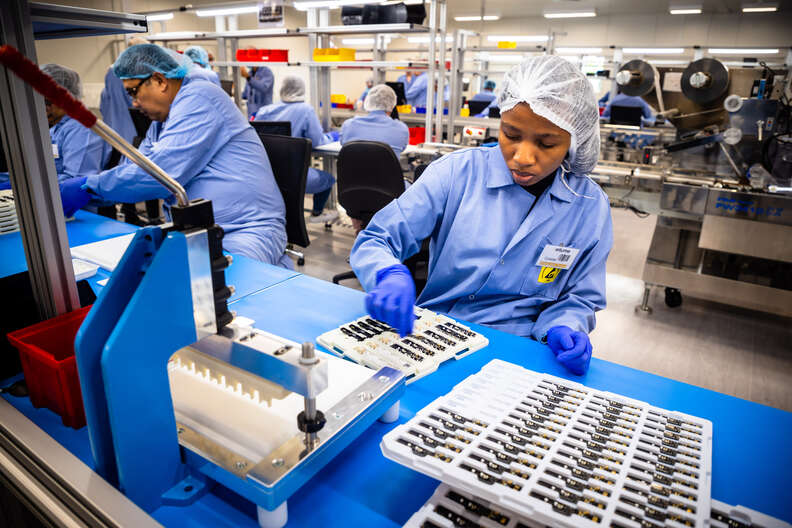 The White House has announced plans to make the nation's first over-the-counter, at-home COVID-19 test widely available in the U.S. by the end of this year.
On Monday, President Joe Biden's senior adviser for COVID-19 response, Andy Slavitt, announced in a press briefing that the U.S. government has partnered with the test kits' manufacturer, Australian-based diagnostics company Ellume, in a deal to produce millions of kits throughout 2021.
"These are over-the-counter, self-performed test kits that can detect COVID with roughly 95% accuracy within 15 minutes," Slavitt said. "It's less invasive than the long nasopharyngeal swab that people may have seen on the news."
The Department of Defense and the Department of Health and Human Services are granting Ellume $231.8 million to build a facility in the U.S. and ramp up manufacturing. According to the official company announcement, Ellume will manufacture 8.5 million tests that Slavitt says are "guaranteed" to go to the U.S. for distribution.
"At full capacity, the U.S. facility will be able to produce up to 19 million tests per month," perhaps by the end of the year, according to Slavitt and the press release.
Ellume will start by providing 100,000 test kits per month from February to July, until the U.S. facility is finished. Slavitt notes that the number of tests is "good, but obviously not where we'll need to be."
Slavitt said the test works by placing the swab in the digital testing device included in the kit, which will then send your results to your smartphone. He also said the test can be used on people two and older and can detect the virus in symptomatic and asymptomatic cases.
"Our focus is enabling the U.S. to minimize community transmission and reopen as quickly as possible," Ellume founder and CEO Dr. Sean Parsons said in a statement. "The Ellume COVID-19 Home Test is the only authorized test of its kind and is an essential tool for the broader pandemic response in the U.S."
The Food and Drug Administration approved Ellume's at-home testing kit for emergency use authorization on December 15. According to Slavitt, each kit is $30, but he said the "cost will come down only when we can get to that mass production and scale." Previous at-home testing kits, which required sending in results to a lab, were priced at more than $100 per kit.
"Making easier-to-use tests available to every American is a high priority with obvious benefits," Slavitt said on Monday. "The ability to quickly test, to contact trace, and quarantine is a linchpin of our national strategy and will be a vital part of containing the virus and stopping community spread."
As of Monday, more than 26 million people in the U.S. have tested positive for COVID-19, including at least 442,000 deaths, according to Johns Hopkins University.