Woman Flashed "White Privilege" Card at Traffic Stop and Was Let Go
The card stated, "White Privilege Card Trumps Everything."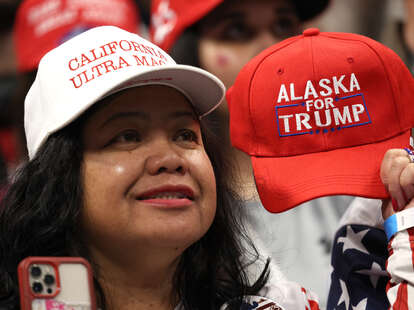 Two Anchorage, AK, police officers are under fire for an incident that took place last month, in which they allegedly didn't ticket a woman they pulled over after she showed them a "white privilege card" in place of her driver's license.
Anchorage Police Department Director of Community Relations Sunny Guerin said that officers Nicholas Bowe and Charles Worland conducted a traffic stop on July 7 "for a car weaving in the lane." It's unclear what department policy the officers violated or whether they faced punitive action.
"The investigation regarding the incident is completed and is a part of confidential personnel files that will not be released publicly," Guerin said.
The woman, Mimi Israelah, shared a Facebook post several days after the incident, saying she had been pulled over by police after arriving in Anchorage for a Trump rally. The since-deleted post showed Israelah posing for a selfie with Bowe as she displayed her "white privilege card," which she claimed worked in place of her driver's license. The card stated, "White Privilege Card Trumps Everything."
"When I saw my White Privilege card, I gave to him if it's ok," Israelah wrote in the Facebook post. "He laughed and called his partner. It's their first time to see a White Privileged (sic) card."
In a video purportedly taken by Israelah during the interaction — but posted by someone else — she can be heard asking the officers if they like the card. One officer can be heard replying, "That's hilarious."
During a Public Safety Committee meeting on Wednesday, Deputy Chief Sean Case said, "We recognize that the post, what was contained in that post, caused a bit of a public uproar, and there were a lot of people that saw that and did not like that post and had negative reactions to that — thought it was an inappropriate post — and we recognize that." Case added that both Bowe and Worland were placed on administrative leave while the nearly two-week investigation took place.
Others were far from satisfied with the way the situation was handled. "As a Black person, I was truly offended," Celeste Hodge Growden, president of the Alaska Black Caucus, said. "And maybe some can't understand that because they're not a person of color, they're not Black, but that was deeply offensive to members within our community and to some that are racially profiled by law enforcement. ... I can't understand why the officers found that humorous."
In the wake of the backlash the Anchorage Police Department received, Chief Michael Kerle issued a statement saying, "As law enforcement professionals, we are held accountable for our actions, and I am aware that the action of one officer can impact the trust between the police force and our community. I know we are all human. But we belong to a profession that does not tolerate, practice, condone, facilitate, or collaborate with any form of discrimination."
The statement didn't directly address the incident between Israelah and the two officers.