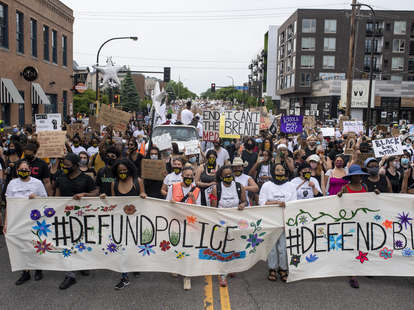 Getty Images/Demonstrators calling to defund the Minneapolis Police Department march on University Avenue on June 6
Most of the Minneapolis City Council announced its commitment to disbanding the city's police department as it currently exists, following nationwide demonstrations against police brutality and the killing of George Floyd.
Nine members of the council – which the New York Times called "a veto-proof majority" of 13 members – announced their pledge on Sunday at a rally to support members of advocacy group Black Visions in Powderhorn Park, The Star Tribune reported.
"We recognize that we don't have all the answers about what a police-free future looks like, but our community does," they read in a prepared statement. "We're committed to engaging with every willing community member in the City of Minneapolis over the next year to identify what safety looks like for you."
On Monday, council member Phillipe Cunningham elaborated via Twitter what the phrase "disband the police" means to him in the context of the city council's intent.
"For me, 'disband the police' means 'end policing as it [currently] exists and build new alternative systems to public safety.' That isn't easy and is going to take time, but we can do it together," Cunningham wrote.
The city council's announcement came after several large Minneapolis entities, including Minneapolis Public Schools and Minneapolis Parks and Recreation, said last week that they will end their relationship with the MPD.
It also followed a Saturday protest, where Minneapolis Mayor Jacob Frey told the crowd of demonstrators that he didn't support dismantling the city's entire police department. Protesters booed him out of the event, and the comments attracted widespread criticism on social media, The New York Times reported.
On May 25, Floyd was killed in Minneapolis after officer Derek Chauvin kneeled on his neck for more than eight minutes during a violent arrest. Chauvin and three other cops involved have since been fired and charged. Chauvin's first court hearing starts on Monday.
In response to the wave of demonstrations around the country, during which "defund police" has become a rallying cry, several city officials have announced that they would make cuts to police departments' sizable budgets. Last week, Los Angeles Mayor Eric Garcetti and other officials announced plans to significantly cut the city's proposed budget to the Los Angeles Police Department (LAPD). New York Mayor Bill de Blasio on Sunday announced that he will cut an unspecified amount of money from the city's police funding.