4 Cops Fired After Black Man Who Pleaded "I Can't Breathe" Died In Police Custody
George Floyd died at a hospital after his violent arrest was captured on camera, and the officers involved have been fired.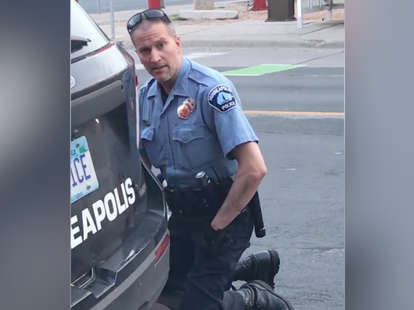 After video footage was taken showing Minneapolis police kneeling on the neck of a man who was repeatedly saying "I can't breathe," four officers have been fired from the department. The man, identified as George Floyd, died at a hospital.
Floyd was named by the city's mayor Jacob Frey and attorney Benjamin Crump. On Tuesday, Frey announced that four officers involved in Floyd's death had been terminated, saying it was "the right call." The FBI will lead an investigation into whether there was a civil rights violation, Police Chief Medaria Arradondo said Tuesday. The department has not publicly identified the officers who were fired.
On Monday evening, two officers ordered Floyd to get out of a car over an alleged "forgery in progress" and claimed he "physically resisted officers," according to a police report. Floyd was "on top of a blue car and appeared to be under the influence," police said.
Video of the incident showed at least one officer kneeling on his neck as Floyd repeatedly said "Please, I can't breathe, I cannot breathe" and "They're going to kill me." Police said they called an ambulance after handcuffing him.
The mayor apologized to the Black community for Floyd's death in a Facebook post on Tuesday and said the killing was "wrong at every level."
"Whatever the investigation reveals, it does not change the simple truth, he should still be with us this morning," Frey said in a news conference.
A 10-minute video of the encounter that bystander Darnella Frazier streamed on Facebook Live has led to calls for justice and amassed more than 763,000 views.
"The police killed him bro right in front of everybody," Frazier said in a video on Facebook. "He was crying, telling them I can't breathe and everything."
While one officer kneels on Floyd's neck, Floyd is groaning and screaming and repeatedly says, "I can't breathe. My face. Just get up." At one point, he calls for his mother. Someone can repeatedly be heard telling Floyd to get up and in the car, though it's unclear who is speaking. At another point, Floyd said, "My stomach hurts. My neck hurts. Everything hurts." Several people can be heard in the background telling the officers to stop hurting Floyd, pointing out that his nose was bleeding.
A friend of Floyd's remembered him fondly to BuzzFeed News, saying he worked as a security guard at a homeless shelter. "He was articulate, he was grounded, he was spiritual, he was an athlete, he was an organizer, he was a comforter, he was an encourager," the friend said.
Crump, the attorney representing Floyd's family, released a statement on Tuesday.
"This abusive, excessive and inhumane use of force cost the life of a man who was being detained by the police for questioning about a nonviolent charge," said Crump, who is also representing the family of Ahmaud Arbery and Breonna Taylor, two young Black Americans killed in recent, prominent attacks. "We all watched the horrific death of George Floyd on video as witnesses begged the police officer to take him to the police car and get off his neck."

According to the Minneapolis Star Tribune, activists and community members have said the footage contradicts the police report and "reopens old wounds of race and policing." Floyd's dying words — "I can't breathe" — echo those of Eric Garner, who died in New York City in 2014 after video showed an officer placing him in a chokehold. Garner's death helped rally the Black Lives Matter movement in the U.S., and a grand jury later decided against charging the officer involved.
The community in Minneapolis also mourned the death of unarmed Black man Jamar Clark in 2015. Clark was shot dead by two white police officers, provoking protests across the city. The officers ultimately did not face charges.
In addition to the FBI investigation, the Minnesota Bureau of Criminal Apprehension is also investigating Floyd's death and reviewing officers' body cam footage. The BCA, which the Star Tribune reported investigates most in-custody deaths, has asked anyone with more information to come forward.
John Gordon, executive director of the ACLU of Minnesota, responded to Floyd's death on Tuesday.
"You can't watch this appalling video posted by brave eyewitnesses on social media without seeing police officers' callous disregard for a black man's life," Gordon said. "The community needs a comprehensive review and the reform of police practices and policies. The officers involved – not just the perpetrator, but also those who stood by and did nothing – must be held accountable."