Minneapolis Museum Covers Its Entrance in Refugee Life Jackets
The life jackets were once worn by refugees traveling from Turkey to Greece.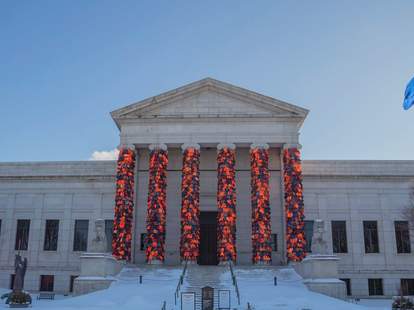 The columns at the entrance of the Minneapolis Institute of Art are now covered in refugee life jackets.
 
The life jackets are part of an installation by Chinese artist Ai Weiwei called "Safe Passage" and were once worn by refugees making the journey from Turkey to Greece. It first debuted in Berlin in 2016, and is now being shown in Minnesota, as part of a larger traveling exhibit from Boston's Institute of Contemporary Art called "When Home Won't Let You Stay: Art and Migration."
The 2,400 multicolored jackets, which were donated by authorities in Lesbos, Greece, create a vibrant carapace on the pillars—something that curator Gabriel Ritter hopes will make people stop and take notice. 
 
"My hope is that this does stop people in their tracks and force people to think, and does implicate people in the decisions they make," he told CNN. "Because here in Minnesota, these are very much our friends, our neighbors, the people we live with as part of our communities."
Last year, the Trump administration told Congress it intends to drastically cut the number of refugees it will let into the country for the fiscal year—only about 18,000, which is down from 30,000.
Though "Safe Passage" is not officially part of, "When Home Won't Let You Stay: Art and Migration," the traveling exhibit will run through May 24.