Minneapolis Police Chief Condemns Chauvin's Arrest Of Floyd, Says It Was "Not De-Escalation"
Minneapolis Police Chief Medaria Arradondo testified during Derek Chauvin's murder trial, nearly a year after calling George Floyd's death "murder."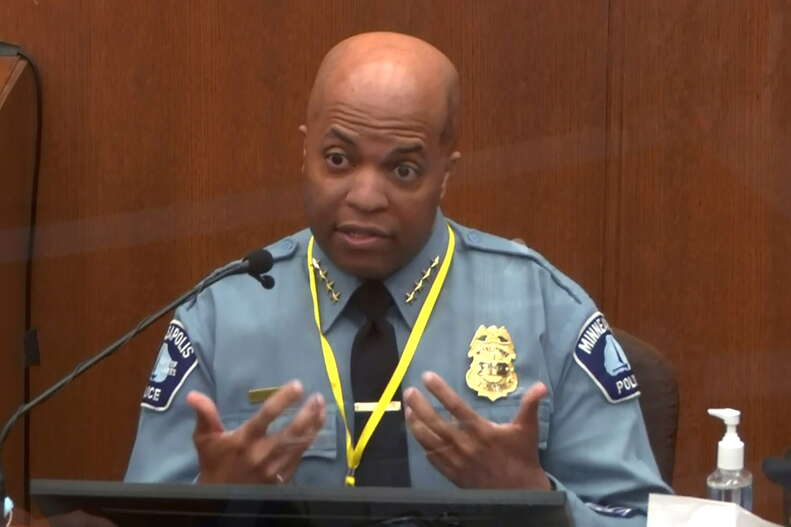 Minneapolis Police Chief Medaria Arradondo said while testifying during Derek Chauvin's murder trial on Monday that the ex-cop's violent arrest of George Floyd violated department policy.
Arradondo, who has been with the Minneapolis police department since 1989 and is its first Black chief, fired Chauvin and three other officers involved in Floyd's death in May 2020. The firings came after a widely shared video showed Chauvin kneeling on the neck of Floyd, a 46-year-old Black man, for more than nine minutes. In a statement from June 2020, Arradondo called Floyd's death "murder" and was not a "lack of training."
While answering questions from the prosecutor, Arradondo said that officers are trained to provide very basic first aid in the event of a medical emergency before EMTs arrive. He said that none of the officers on the scene during Floyd's arrest attempted to provide medical assistance. Arradondo also described to the court the department's use-of-force, de-escalation, and decision-making policies, which a local reporter noted is part of the prosecutor's strategy to "show that MPD has policies in place, and that Chauvin didn't follow them."
Arradondo said that Chauvin "should have stopped" restraining Floyd after he stopped resisting and "was in distress." He also said Chauvin's actions were "in no way, shape, or form" part of the Minneapolis police department's training or ethics.
"That action is not de-escalation," Arradondo said during his testimony. "We have a duty of care, and so when someone's in our custody, regardless of if they are a suspect, we have an obligation to make sure that we provide for their care."
Chauvin's murder trial for the death of Floyd began in Minneapolis last week, about ten months after video of Floyd's violent arrest last May set off protests across the U.S. and world. Chauvin is charged with second-degree murder, second-degree manslaughter, and third-degree murder.
Given the rarity of police officers facing conviction for misconduct in the U.S., legal experts have recognized that presenting multiple charges increases the chances of a guilty verdict. The second-degree murder charge carries the longest maximum prison sentence of 40 years.
Jury selection in this trial took weeks and has been a significant part of the discussion of how the verdict will play out. During the selection process, potential jurors were asked questions about their support for Black Lives Matter or the police, the Star Tribune reported. Here is more information on the 12 jurors and three alternates. The makeup of the jury — which includes three Black men, one Black woman, and two people who identify as multiracial — is more diverse than the city of Minneapolis, which is more than 60% white and less than 20% Black.