Mississippi Lawmakers Vote To Remove State Flag With Confederate Emblem
The state's legislature passed a bill to redesign the flag, and it will move to Gov. Tate Reeves, who has said he would sign the legislation into law.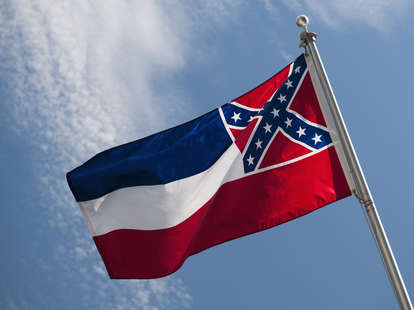 Getty Images/Mississippi state flag
Mississippi lawmakers voted on Sunday to retire the state's flag, which is the last in the nation to display the Confederate battle emblem. The flag will join many symbols of the Confederacy that have been removed during protests against racial injustice following the murder of George Floyd.
A bill to redesign the state flag was passed in the House by a 91-23 vote, and the Senate by a 37-14 vote. It will now move to Gov. Tate Reeves (R), who said on Saturday that he would sign the legislation into law.
"We should not be under any illusion that a vote in the Capitol is the end of what must be done—the job before us is to bring the state together and I intend to work night and day to do it," Reeves wrote on Facebook.
The Mississippi flag was adopted in 1894, and it features red, white, and blue stripes with the Confederate symbol in the corner. The bill calls for the flag's redesign to include the phrase "In God, We Trust," which voters would decide on during a special election in November.
Though some state flags still allude to the Confederacy (Arkansas' state flag has four blue stars on it, with one commemorating the state's membership in the Confederacy), Mississippi was the last state to have a flag with an overt Confederate emblem. Georgia's state flag also used to include the Confederate battle emblem, until the state legislature approved a new flag in 2001.
Rep. Jeramey Anderson (D) applauded the bill's passage on Sunday.
"I thank those who came before us, who with courage and resolve nurtured the Civil Rights Movement that helped bring us to this day," he said on Twitter. "What a beautiful moment of unity."
Rep. Zakiya Summers (D) also tweeted, "I just [threw] the deuces to the state flag that's at the entrance of the house chamber!"
Until recently, most Mississippians favored keeping the flag. In 2001, voters were presented two potential state flag options, and the majority of them voted in favor of keeping the existing flag.
Following Floyd's death, protesters, and in some cases and city leaders, have removed Confederate statues and other racist symbols of America's past.