Dr. Anthony Fauci reacts after throwing out the ceremonial first pitch prior to the game between the New York Yankees and the Washington Nationals at Nationals Park on July 23, 2020
Major League Baseball's season kicked off Thursday with infectious disease expert Dr. Anthony Fauci throwing the ceremonial first pitch, after players demonstrated peacefully in support of ongoing nationwide protests against police brutality.
The season began at Nationals Park in Washington, D.C. with the Washington Nationals playing against the New York Yankees. The league had announced back in March that it would delay its 2020 regular season opening as the coronavirus rapidly spread across the world.
Though the game was cut short because of the rain, it drew headlines for multiple reasons. All players and coaches from both teams took a knee before a pre-recorded rendition of the national anthem, in support of the Black Lives Matter movement. This demonstration followed other players kneeling during the national anthem at exhibition games, drawing President Trump's ire.
Before the game, Washington Nationals general manager Mike Rizzo also told reporters that outfielder Juan Soto tested positive for the coronavirus and wouldn't be playing. According to the team's website, Soto is asymptomatic, and his positive test did not prevent any of the other members from playing. Rizzo also said "every other test the Nationals have taken in the past two days has come back negative."
Dr. Fauci, the director of the National Institute of Allergy and Infectious Diseases, has been a continuous, comforting-yet-assertive presence during the coronavirus outbreak in the U.S. As a member of the White House's coronavirus task force, his expert advice on how to slow the spread of the virus has often been at odds with President Trump's public statements.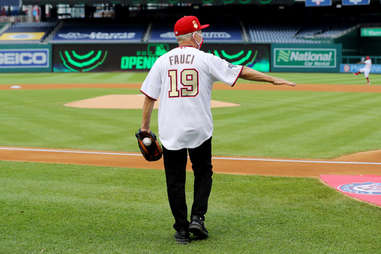 Also on Thursday, Trump told reporters at a coronavirus briefing Thursday that he will throw the first pitch in August at Yankee Stadium.Trump is the only president since Howard Taft not to throw a ceremonial first pitch on opening day, save for Jimmy Carter, according to ESPN. The president later appeared on Sean Hannity's Fox News show, saying he hopes every player stands for the stand national anthem, in keeping with his comments in past years about NFL players taking a knee to protest police brutality.
"That would hurt a lot of people in our country," Trump said of the peaceful protest.