More Migrant Children Than Ever Are Being Held In U.S. Custody, Reports Say
White House Press Secretary Jen Psaki confirmed that the border has seen an influx of people, overwhelming the facilities set up to house children and families.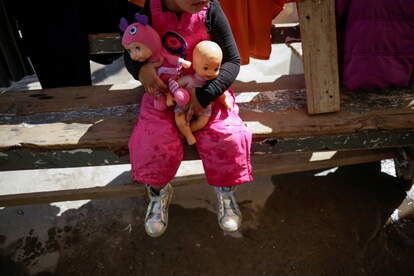 The U.S. is holding thousands of migrant children at the border in detention-like facilities as the Biden administration has been under pressure to respond to a recent surge of unaccompanied minors crossing the border, according to a recent report. White House Press Secretary Jen Psaki defended the Biden administration's immigration policy Wednesday, saying, officials understand " there will be more kids who are crossing the border."
A New York Times report this week found that more than 3,250 children are currently in custody at the U.S.-Mexico border — marking the highest number ever detained by U.S. Customs and Border Patrol. The amount of children detained has tripled within the last two weeks, and many of them have been held in cells for longer than the legally permitted three-day maximum, The Times reported. According to NBC News, more than 1,400 children have been held longer than three days in concrete rooms known as "hieleras," or iceboxes. Nearly 170 of the detained children are under the age of 13.
Psaki on Tuesday attributed the heightened number of detainees and length of stay to factors including the pandemic creating "undue hardships," natural disasters, and flight from violence or persecution.
Nearly two months into his presidency, Joe Biden's administration has diverted from hardline the Trump-era immigration policy that expelled anyone, including migrant children, attempting to cross the border during the COVID-19 pandemic.
During a press briefing on Tuesday, Psaki would not confirm to reporters the exact number of children detained as reported by the Times, but confirmed an increase.
On Wednesday, White House officials announced the reinstating of a policy from President Obama's administration called The Central American Minors Program, which would allow children from El Salvador, Guatemala, and Honduras to be reunited with their parents who are lawfully in the U.S.
"This program provides a safe, legal, and orderly alternative to the risks incurred in the attempt to migrate to the United States irregularly," the announcement read. "The U.S. southern border remains closed to irregular migration, and we reiterate our warning that people not attempt that dangerous journey."
Psaki said on Tuesday children who are "apprehended at the border" are typically processed through Customs and Border Patrol Facilities and then sent to Health and Human Services (HHS) shelters, "where the children have access to education services, medical and mental health services."
"One of the challenges we've had is that COVID-19, the pandemic, had initially severely limited the amount of children that could be taken into HHS facilities and the pace at which that could happen," Psaki continued. "So one of our focuses is on working on seeing how we can address that."
Psaki said the Biden administration is looking into using additional facilities and following safety guidelines set forth by the Centers For Disease Control and Prevention to allow HHS facilities to return "to pre-COVID numbers."
"We're also looking for ways that we can expedite the way that we vet and process families and sponsor host families where these kids can go," Psaki said. "We don't want them to be in the [Customs and Border Patrol] facilities. We want them to be in shelters as quickly as possible."
Psaki said that immigration policy pertaining to the U.S.-Mexico border remains a top priority for Biden, who during his campaign said one of his first orders of business as president would be to reunite the more than 500 children separated from their families at the border. Earlier this month, Homeland Security Secretary Alejandro Mayorkas said his department is working to reunite those children with their families, either in the U.S. or in their country of origin.
Psaki said the influx of migrant children being held at the border is due to the administration not turning people away.
"This administration did not feel that it was humane or moral to send kids back on this treacherous journey… back to countries where they were fleeing persecution or fleeing really difficult circumstances," Psaki told MSNBC's "Morning Joe" on Tuesday.
Correction: An earlier version of this story misspelled Alejandro Mayorkas' name. It has been updated to reflect the correct spelling.