More People Watched Jeopardy!'s 'GOAT' Than The NBA Finals
The tournament aired on ABC and attracted more than 40 million viewers in its first three nights.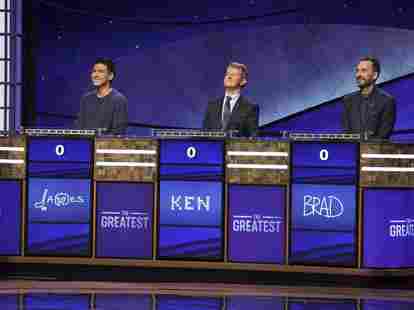 ABC
Answer: the singularly most popular television quiz show in broadcast cable history? Question: What is Jeopardy? Correct.
The Jeopardy! "Greatest of All Time" broadcasts were a smash-hit for ABC, which slotted four nights (three last week and one this week) of the good-old-fashioned quiz show during prime time.
The Jeopardy! GOAT viewership was so successful that each of the first week's episodes outranked Game 1 of the most recent NBA Finals, World Series, and NHL Stanley Cup Finals, according to Sports Illustrated. The show also reportedly outperformed every 2019 game of "Monday Night Football" — one of the costliest cable empire darlings — in viewership.
The first Jeopardy! GOAT episode on Tuesday, January 7 attracted 14.4 million viewers; the Wednesday episode drew 14.8 million million viewers; and the Thursday episode clocked 15.4 million viewers, according to Sports Illustrated. The show concluded on Tuesday, January 14.
Jeopardy 'Greatest of All Time' viewership numbers:
Tues: 14.4 million
Wed: 14.8 million
Thurs: 15.4 million

2019 comparisons:
NBA Finals Game 1: 13.5 million
MLB World Series Game 1: 12.2 million
NHL Stanley Cup Game 1: 5.5 millionhttps://t.co/JfkL5Z5BMm

— Jimmy Traina (@JimmyTraina) January 10, 2020
For those who weren't watching cable television, here's how the show worked: Across four nights, a group of the historically winningest Jeopardy! contestants competed to be the GOAT. Get it? 
Contestant Ken Jennings earned the final trophy last night and the $1 million prize, defeating competitors James Holzhauer and Brad Rutter. Jennings' winning response was "Who is Iago?" to answer an inquiry about the name of a non-titular character in Shakespeare's tragedies who delivered the most speeches.
This particular broadcast fell at a difficult time in the show's history, after longtime host Alex Trebek shared that he was diagnosed with pancreatic cancer last summer and had a subsequent relapse. Trebek has said he hopes to continue hosting the show for the immediate future. 
The classic game show has been airing for more than five decades and is possibly one of the only things that so many Americans can agree on.