Most Abortion Patients Feel Relief for Years After, Study Finds
The study surveyed hundreds of abortion patients who overwhelmingly reported feeling mostly positive emotions, or none at all, about their decision.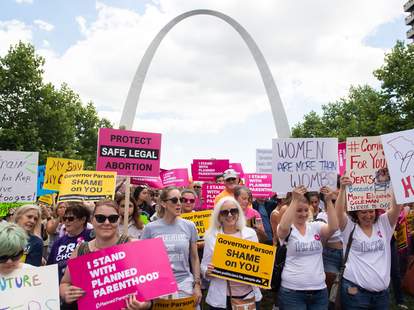 One of the largest longitudinal abortion studies ever conducted revealed that the vast majority of people who have had the procedure feel relief five years later.
While anti-abortion arguments that the procedure harms patients have actually influenced law in the U.S.—there is limited data on people's emotions years after they've had an abortion. That's why the publication of one of the largest studies ever on how abortion affects patients emotionally, socially, and physically on Sunday in the journal Social Science & Medicine is so significant.
A key finding: five years after having an abortion, only 6% of people who underwent the procedure experienced primarily negative emotions. More than 84% of people surveyed reported experiencing positive or no emotions.
The analysis was led by researchers at the group Advancing New Standards in Reproductive Health (ANSIRH) and the University of California San Francisco. Researchers surveyed data of nearly 700 people as part of the Turnaway study who sought abortions between 2008 and 2010, and followed up with them 11 times across a period of five years. 
  
"All the claims that negative emotions will emerge over time, a myth that has persisted for decades without any evidence to substantiate these claims, it's clear, it's just not true," lead author Corinne Rocca told CNN.
The study found nearly 50% of abortion patients found the decision to have the procedure was not difficult, while 27% found the decision very difficult and somewhat difficult, respectively. 
Here's why the findings are also important: anti-abortion activists frequently project women's future regret about abortion, a talking point frequently disposed as they've been playing a ground game in states like Indiana to persuade voters to join their cause. 
Politically, it's somewhat working: in at least nine states, patients seeking abortions are required to read materials that include warnings that they may experience future emotional and mental health harm, according to the Guttmacher Institute. In addition, at least 27 states require patients who are seeking an abortion to wait for a designated period, usually 24 hours, to further consider their choice. Moreover, in 2019, more than 50 laws restricting women's reproductive rights were passed.
"What this study is showing is that there is a small minority who do regret their abortions," Rocca told the Washington Post. "I in no way want to reduce the struggles of those who regret their abortions, but it is misguided to take away the options for everyone based on this minority."
Critics of the study have reportedly pointed out that patients who'd opt in to participate would be more likely to report positive feelings, though the authors have disputed this claim. Outlets including National Review have called the study "flawed," pointing to the response rate of 38 percent.
The study's authors have responded that the response rate is "in line with other studies" and have "no reason to believe women would select into the study based on how their emotions would change over five years."