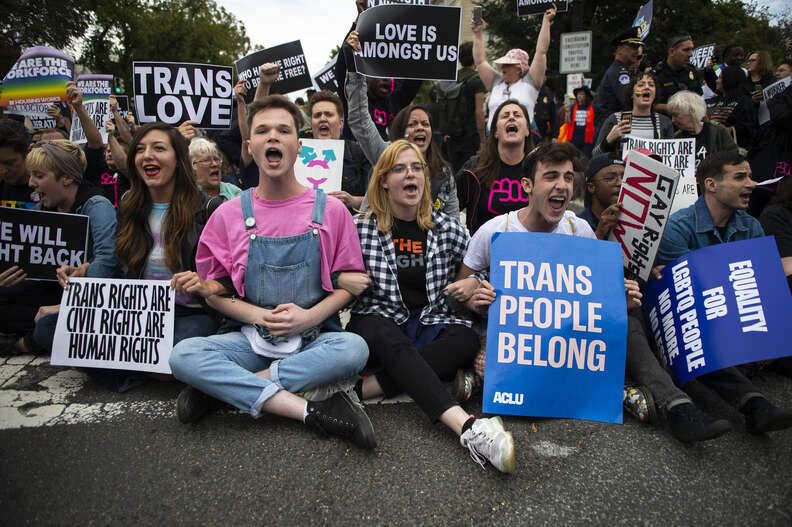 Protesters block the street in front of the Supreme Court as it hears arguments on whether gay and transgender people are covered by a federal law barring employment discrimination on the basis of sex on Tuesday, Oct. 8, 2019.

| Getty Images
Protesters block the street in front of the Supreme Court as it hears arguments on whether gay and transgender people are covered by a federal law barring employment discrimination on the basis of sex on Tuesday, Oct. 8, 2019.

| Getty Images
More than a dozen bills that discriminate against LGBTQ+ people were introduced at the start of the 2021 legislative season, including several that target transgender youth and would ban them from school sports.
Mississippi Gov. Tate Reeves (R) signed a bill into law Thursday that restricts transgender women and girls from competing as their gender in sports. Reeves tweeted that the law ensures "young girls are not forced to compete against biological males."
Last year, Idaho passed two anti-trans laws, which banned transgender women and girls from competing in sports as their gender and barred people from changing their biological sex on their birth certificates, respectively.
According to Freedom For All Americans, a bipartisan campaign that works to protect LGBTQ+ people, multiple states introduced nearly 20 new bills, adding to more than two dozen existing bills that carried over from 2020. States including Alabama, Missouri, Indiana, Minnesota, Connecticut, North Dakota, Iowa, and Arizona are considering such bills, most of which are anti-trans.
In Montana, House Bill 113 would restrict licensed medical professionals from providing transgender minors with medications or procedures, including hormones and gender affirmation surgery. Bill 113 failed after Montana's House of Representatives voted it down in late January.
Several other states have introduced similar bills. A bill in Texas seeks to classify medical professionals who provide treatments such as hormone therapy and other gender-affirming procedures to minors as within the state's definition of child abuse. Bills in Alabama, Missouri and Indiana also proposed similar laws that would punish physicians.
Another bill in Montana HB 112, which is called "save women's sports act," did pass in the House. This bill would require that student athletes can only play on teams based on their biological sex and not their gender identity. State legislatures are considering similar bills related to youth sports in Minnesota, Connecticut, North Dakota, Iowa, Arizona, and other states.
"Discriminatory policies that seek to restrict the rights of transgender and nonbinary youth to receive best-practice medical care or participate in school sports would only work to increase the kind of social isolation and stigma that contributes to self-harm and suicide risk," Sam Brinton, VP of Advocacy and Government Affairs for The Trevor Project, told NowThis. The Trevor Project is a nonprofit that provides crisis intervention and suicide prevention to LGBTQ+ youth.
Of the nine bills that are currently being decided on in Iowa, according to The Freedom For All Americans tracker, one requires school districts to provide parents with written notice ahead of time if a teacher or staff will ask students what their preferred pronouns are.
"We constantly hear from transgender and nonbinary youth in crisis who want nothing more than to be recognized for who they are," Brinton continued. "Research clearly demonstrates that respecting and affirming a young person's gender identity is essential to their mental health and well-being."
According to research gathered by The Trevor Project, transgender and nonbinary people experience anxiety and depression at 10 times the rate of cisgender people. But trans and nonbinary children who socially transition to their preferred identity "demonstrate comparable levels of self-worth and depression" as children who do not identify as trans or nonbinary, The Trevor Project found. The research also found that using a child's preferred name decreased suicidal ideation by 29% and decreased suicidal behavior by 56%.
President Joe Biden has said during his campaign that he planned on advancing the rights of the trans community at the federal level. On his first day in office, Biden signed an executive order to prevent and combat discrimination against LGBTQ+ people, including at work, school, and health care environments, and more. Biden also reversed the Trump-era trans military ban.
Despite several states attempting to push anti-LGBTQ+ laws through, other states are taking steps in a progressive direction. Last week, New York signed into law a reversal of the controversial "walking while trans" ban that allowed police officers to stop and frisk anyone loitering for the purpose of engaging in prostitution. The outdated law largely targeted LGBTQ+ people of color.
"In the midst of an unprecedented pandemic and economic hardship, lawmakers should be expanding opportunity and mental health support for trans young people, not making life harder than it already is," Brinton said.
Editor's note: This article has been updated to reflect news about a bill's passage in Mississippi.