My Wedding, The Coronavirus Crisis, & Why I Haven't Cried Yet
In the grand scheme of it all, a wedding feels like a trivial thing to mourn compared to the hardships millions have and will endure in the months to come.
SoCal Standard Photography
On March 10, I got a text from my mom. As I read it, I could feel the cracks in my heart.
"So...my shower gift for you is something old (a vintage bridal handbag), something new (a delicate diamond lariat necklace), something borrowed (my original wedding ring sewn into the pocket of the purse), and something blue (a cute garter with a blue bow). Just so you know you've got that covered."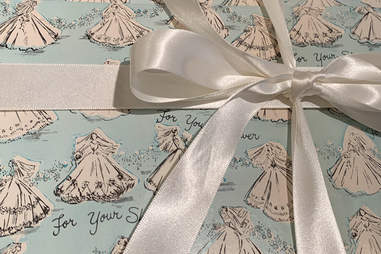 The unopened wedding shower gift from my mother.
She was telling me what she'd gotten me for my wedding shower because I couldn't open it. I was in Los Angeles and she was in New York. The day before, I'd made the decision to cancel the flight out to my own bridal shower. At the time (Monday, March 9), many of my friends thought I was being dramatic. "Oh my goddddd, no, don't cancel!" was one of the messages that made my phone ping. But I was adamant that I was making the right decision, and now, a week later, I don't regret my choice. 
 
My fiancé and I have been following coronavirus news and information closely. We're not doctors or scientists, but we have educated ourselves about this — a lot. Despite a flurry of supportive "we'll still come" messages from my friends, I'd read enough to know it didn't seem like a good idea to fly somewhere despite logic and emotion being at odds. Would my friends feel let down? Would the host of the shower be mad at me? I tried to shake off the social pressure I felt to show up. The more I thought about it, the more I realized none of that mattered. My own choices in the face of a pandemic would not and should not be influenced by the desire to make others happy. 
I took to Facebook to share a heavily researched list of reasons why I was taking this seriously, and why I'd chosen to cancel my flight. While most reactions were supportive, some accused me of fear-mongering. I didn't care. I wanted people to know that this was serious, and I thought that by showing how seriously I was taking it, others might follow suit. 
"I just canceled my flight (that was supposed to be tonight) to New York for my own bridal shower," I posted. "Some seemed surprised by my choice so I want to share a bit of background…"
Now, here I sit, and I don't know when I'm going to open the beautifully wrapped blue gift my mom sent me a photo of after I tearfully replied, "send pics!" I don't know if I'm going to get married in May or November or next year (my fiancé and have recently begun the "do we reschedule our wedding?" conversation). 
 
I haven't cried about that part of all of this (yet) despite having devoted more than a year of my life to the stressful, emotional process of planning a wedding (that is absolutely nothing like rom-coms make it seem). If we do cancel or reschedule, we don't know if we'll get our money back. We don't know when and if we can move our wedding to a different day. We don't know when things will be ok or if our family in Europe will be able to come. We just don't know, and that's ok. (UPDATE: Sadly, we made the decision to officially cancel our wedding. I did cry this time, and that's ok too. After I took some time to 'mourn' the wedding we'd never have I reminded myself that we're keeping our friends and family safe and I still get to marry the person I love. That's what matters. Coronavirus will forever be a part of all our story now, they will just be very different stories that what we might have imagined.)
 
The coronavirus pandemic is unlike anything any of us have ever lived through. There are so many unknowns. In the grand scheme of it all, a wedding feels like a trivial thing to mourn compared to the hardships millions have and will endure in the months to come.
 
For all the bad that this pandemic has brought with it, it also taught me something I didn't realize I needed to learn: it really doesn't matter if we have the "perfect" wedding. It doesn't matter if there are 10 people or 100 or if I wear a perfectly tailored dress or jeans. What matters is that we and those we love are safe and that I get to marry the man I love. Perhaps that's the silver lining of any crisis — it reminds you what really matters.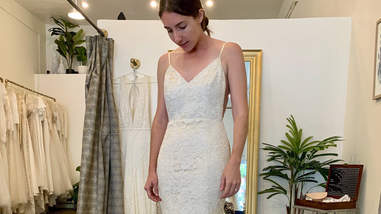 The other night I called my brother (who lives in Los Angeles) to ask him if he would get ordained. "We might be getting married in the backyard," I said. The guest list would consist of my brother and his fiancée, my fiancé's mom, my parents (maybe, if they can travel here), our two dogs and the wayward squirrel. There would be no expensive flowers or three-tiered cake. It would be just us doing what the whole point of this was anyway, marrying each other. In a weird way, it's kind of beautiful. 
 
So, no matter the social dilemmas you might be facing, it's ok to cancel. It's ok to tell someone you don't want to go. It doesn't make a person tough, cool, or brave to act like everything is "normal," skip taking precautions, and avoid warnings before things get really bad. In fact, I think the early adopters of safety measures are the truly brave ones here, because they are the ones who will save lives.
 
From what we know, the best thing you can do right now for yourself and society is genuinely try to help minimize the spread, keep yourself healthy, and be smart. Don't feel ashamed about canceling that trip or party. In fact, making those decisions could be the only hope we have of collectively saving others and allowing our healthcare system the time it needs to catch up.
That's what we plan to do, and I hope you do, too.

Scout MacEachron is a NowThis producer based in Los Angeles, CA.