NASCAR's Bubba Wallace: Rope In Garage Was "A Noose" After FBI Ruled No Hate Crime
"I'm pissed. I'm mad because people are trying to test my character and the person that I am and my integrity."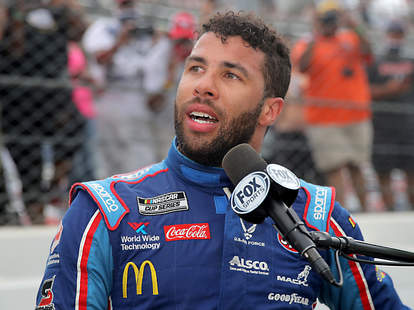 Getty Images/Bubba Wallace speaks to the media after the NASCAR Cup Series GEICO 500 at Talladega Superspeedway on June 22,
Bubba Wallace, the NASCAR top circuit's only Black driver, said on Tuesday he was "pissed" about people attacking his character after federal authorities announced that a noose found in his garage stall on Sunday was not a crime. 
The Department of Justice determined Tuesday there was "no federal crime was committed after it reviewed the evidence and conducted numerous interviews. " NASCAR also released a statement about the FBI findings, saying that a "garage door-pull rope fashioned like a noose had been positioned [in the stall] since as early as last fall."
"The FBI learned that garage number 4, where the noose was found, was assigned to Bubba Wallace last week. The investigation also revealed evidence, including authentic video confirmed by NASCAR, that the noose found in garage number 4 was in that garage as early as October 2019," the the DOJ's release said. " Although the noose is now known to have been in garage number 4 in 2019, nobody could have known Mr. Wallace would be assigned to garage number 4 last week."
NASCAR announced on Sunday that a noose had been found in Wallace's garage stall at the Talladega Superspeedway in Alabama and that it would immediately investigate the "heinous act." One of Wallace's teammates had discovered the noose and brought it to NASCAR's attention, but Wallace never saw it. 
The U.S. Attorney's Office for the Northern District of Alabama then announced on Monday that the FBI and DOJ would also investigate the incident. 
Though it was widely reported that Wallace himself never saw the noose and didn't report it to NASCAR officials, many online accused him of forging the incident. Some drew parallels to the controversial case involving actor Jussie Smollett who allegedly made false reports to police that he was attacked in Chicago by men who used "racist and homophobic slurs." (Smollett later became a person of interest in the case and was indicted on six new charges in February.)
During a CNN interview with Don Lemon on Tuesday, Wallace said he was "pissed" about the backlash and people who are questioning his character.
"I'm pissed. I'm mad because people are trying to test my character and the person that I am and my integrity," Wallace explained to Lemon.
Despite the FBI's findings, Wallace told Lemon that he still believed the rope was intentionally tied like a noose, even if he wasn't an intended target.
"Don, the image that I have seen of what was hanging in my garage is not a garage pull," Wallace said. "I've been racing all my life. We've raced out of hundreds of garages that never had garage pulls like that. People that want to call it a garage pull and put out old videos and photos of knots as their evidence, go ahead. From the evidence that I have, it's a straight-up noose. The FBI has stated that it was a noose over and over again. NASCAR leadership has stated that it was a noose. I can confirm that. I actually got evidence of what was hanging in my garage over my car around my pit crew guy to confirm that it was a noose. Never seen anything like it."
At that Cup Series race at Talladega Superspeedway on Monday, dozens of NASCAR drivers walked with Wallace and pushed his car to the front of the field in support after the initial reports. 
The incident follows NASCAR's announcement earlier this month that it would ban displays of the Confederate flag at events. Wallace had originally called for the ban during another interview with Don Lemon. Despite the ban, a Confederate flag along with a banner that said "Defund NASCAR" was seen flying above the Talladega track over the weekend.