Paid Content For
A Nonprofit's Mission To Help Veterans Through Fishing
Project Healing Waters Fly Fishing has expanded its veteran services with a National Park Foundation grant.
Paid Content For
While a retired U.S. Navy captain was undergoing cancer treatment atWalter Reed National Military Medical Center in 2005, all he wanted to do was go fishing. So, on weekends, Capt. Ed Nicholson would get his rod and his waders and go fly fishing. Then, he started to invite other veterans at the hospital to join him.
From this endeavor, Project Healing Waters Fly Fishing was born, with the mission of helping rehabilitate wounded veterans through unique outdoor programming. The organization now has more than 200 programs across the country to support active military service members and veterans through fly fishing and associated activities, including education and outings.
"It doesn't make any difference really what branch of service you come from," Bill Campbell, the Virginia regional coordinator for Project Healing Waters Fly Fishing, told NowThis. "We don't care. You speak our language, and we speak yours, and we're all in this together to be on the healing journey."
The nonprofit works to make the sport accessible even to veterans with disabilities. They work to demonstrate that a physical disability does not need to stop someone from enjoying outdoor activities. "I don't believe fly fishing is hard to learn," Campbell said. "I believe it's like any sport. We give them a safe place where they can be themselves and where they can be distracted from all of that stuff. And then we let them focus on something that is healthy, that is constructive, and that occurs in beautiful, peaceful places."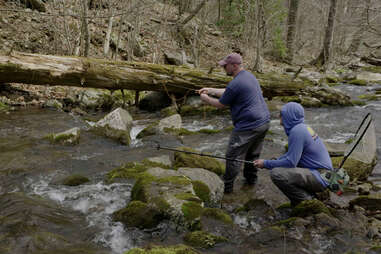 The programs Project Healing Waters Fly Fishing offers are much more than one-day fishing trips. One of the offerings Campbell said is most rewarding for the participants is rod building sessions. "There's nothing more rewarding than catching a fish on a rod they built with a fly they tied," he said. "Tying flies and building rods requires some type of manual dexterity, and people who have limited upward mobility issues or who have some kind of just light mobility issues because of their service experience get to work on that manual dexterity as they tie flies and build rods. So it's therapeutic in that respect."
Campbell's chapter of the nonprofit has now teamed up with Shenandoah National Park in Virginia, which he says is one of the best places to fish for trout. Through a grant, he has now led two wild trout trips.
"Trout don't live in ugly places," he said. "I've had guys go out saltwater fishing out in the Chesapeake Bay, and they'll get out in the water, and you can't see anything other than the Chesapeake Bay Bridge-Tunnel for miles, but they'll come back and say, 'It was beautiful out there.' Now, all they saw was water, but just to be out in the outdoors, to breathe fresh air and to be doing something healthy, felt good."

Find out how you can help support the National Park Foundation during the Subaru Share the Love Event by visiting subaru.com/share.