National Youth Poet Laureate Amanda Gorman Gets Universal Praise For Soaring Inaugural Poem
The 22-year-old inaugural poet inspired millions with her original work, "The Hill We Climb."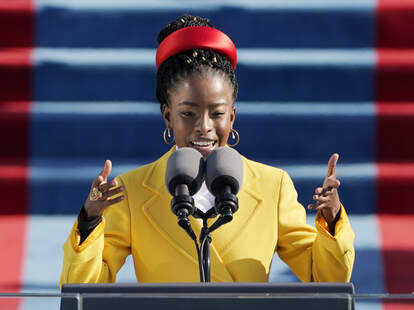 On a historic day in the United States, 22-year-old inaugural poet Amanda Gorman stole the show.
Gorman, named the first national youth poet laureate at the age of 19, became the youngest known inaugural poet on January 20 when she delivered the soaring "The Hill We Climb."
She told CBS that she wanted her poem to "be a message of hope and unity" — reflecting the core theme of President Biden's 2020 campaign and his inaugural address.
"I think that Wednesday for me really just underscored how much that was needed," Gorman said, speaking of the violent insurrection at the U.S. Capitol on January 6. "But to not turn a blind eye to the cracks that really need to be filled."
Like Biden, Gorman overcame a speech impediment to become the successful public speaker that she is today. When she took center stage Wednesday at the inauguration, she earned widespread praise for her delivery and her message.
She also referenced some lyrics from "Hamilton" in her poem; the famous Broadway musical from Lin-Manuel Miranda has inspired her in more ways than one. In addition to drawing on it for the inaugural poem, Gorman told CBS that she would practice a song from the "Hamilton" soundtrack to help her with the letter "R," which she had trouble pronouncing.
"My favorite thing to practice was the song Aaron Burr, Sir, from "Hamilton" because it is jam-packed with R's. And I said, 'if I can keep up with Leslie [Odom Jr., who played Burr] in this track, then I am on my way to being able to say this R in a poem,'" Gorman said.
Miranda himself praised her Wednesday.
Gorman has already accomplished quite a lot at a young age, including many years of activism for human rights and women's rights. In 2019, she performed an original poem for NowThis about state abortion bans that continue to threaten American women's reproductive rights.
She also performed at a virtual event co-hosted by NowThis and Vital Voices, dedicated to women's empowerment:
With all the newfound attention, including nearly one million additional followers on Twitter and Instagram combined in the hours after the inaugural ceremony, Gorman remains focused on her inspiration.