This Native Crowdfunding Campaign Is Providing Hundreds Of Elders With Basic Supplies
Native elders' lack of access to nutritional food, health care, and testing has motivated some tribe members to deliver supplies to families who are more at risk of COVID-19.
As the novel coronavirus sweeps across the U.S., it is becoming clear that some populations are dramatically more vulnerable to the effects of the outbreak than others.
In the Southwest, the Indigenous territory Navajo Nation spans more than 27,000 square miles and contains only 13 grocery stores. For some elders in the Nation, which touches Utah, New Mexico, and Arizona, those stores are located hours by drive away from where they live.
As shelter-in-place and stay-at-home orders have led to dwindling grocery store shelves, Native elders who ordinarily struggle to access and buy groceries are under more pressure to save up the recommended two weeks' worth of food.
Former Navajo Attorney General Ethel Branch started a GoFundMe in mid-March to raise money for groceries and supplies that could be delivered to families and elders in need. The Navajo & Hopi Families COVID-19 Relief Fund was inspired by her mother, who lives on the reservation and currently has no electricity, and her partner, who is a member of the Hopi tribe, which sits inside the Navajo Nation.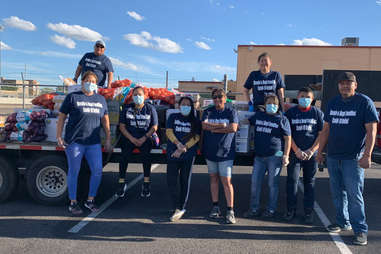 "It was kind of difficult for me to buy all the things she needed that she would be able to preserve for a couple weeks, a month," Branch said. "I definitely felt like something [needed] to be done, and I wasn't seeing it happening already, and so I started to ask, well, what can I do?"
Since its creation on March 15, at least 7,000 donors have given more than $470,000 to the fund — and counting. A core team of 16 has offered to help Branch manage and allocate the money. The team, a majority of them women, has been working rapidly to efficiently deliver food and resources bought with the money across the large Nation. The team also set up a hotline so people can call in to request help. It received 2,000 requests in its first two weeks.
But Branch and her team have hit roadblocks while trying to support their wider community. Their initial plans to work with the Navajo Housing Authority fell through after staff members were put on administrative leave to avoid spreading the virus. Community health representatives who work for the Navajo Department of Health have been providing names of potential recipients and a suggested number of food baskets.
"That's a big part of what we're working on, is making sure that no one falls through the gaps," Branch told NowThis.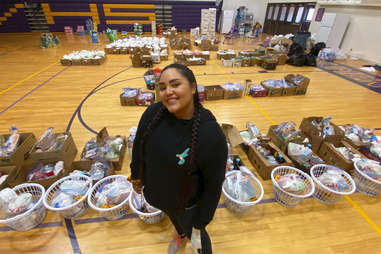 Since March 14, Branch and her team have sent out several loads of resources. One shipment from Phoenix included 4,000 units of dried goods including rice, beans, flour, and 800 rolls of toilet paper. More than 850 families have received aid in communities like the Navajo hotspot of Chilchinbito; Dilkon and Fort Defiance, AZ; Oljato, UT; and two villages on the Hopi reservation. The aid is supplementary to incoming nutritional assistance from the Coronavirus Aid, Relief, and Economic Security (CARES) Act, which includes $10 billion in funding for Tribal Nations.
Health experts have warned that rural communities will face a surge of COVID-19 cases later than dense urban areas. Fawn Sharp, president of the National Congress of American Indians, said that federal and local officials have been giving more attention to "urban" hotspots and leaving many rural areas — and the tribes located within them — more vulnerable. The Navajo Nation has approximately 170 hospital beds and 28 ventilators for its population of roughly 180,000 people.
Sharp and the board at NCAI are working with private companies and partners to build their own stockpile, similar to the Strategic National Stockpile that states are relying on.
"Right now, the nearest place we can go to test [for COVID-19] is two hours away," said Sharp, who also serves as the president of the Quinault Tribe and is based in Washington state. "If we're in the back of the line, both in terms of funding and direct access to protective equipment and the supplies that we need, that means we're part of that calculus, that if there are going to be casualties, it's going to be those in the remote rural communities."
Besides location, other health factors have left Indigenous populations more at risk of the coronavirus. Branch pointed to examples of environmental racism that has left members of her tribe compromised. More than 500 closed uranium mines on the Nation have led to radiation in local water supplies and subsequent instances of bone cancer and impaired kidney function. Increased cases of asthma are suspected to partially be the result of nearby coal-fired power plants, in addition to Navajo reliance on indoor wood-burning heat.
Poor access to nutritious food and an even poorer quality of health care has led to a rate of diabetes that is double the national average. Public health officials have warned that pre-existing conditions, including diabetes, can lead to a greater risk of infection with COVID-19.
As of April 2, more than 420 people on Navajo Nation have been diagnosed with COVID-19, and at least seven deaths have been linked to the disease. Branch said she is preparing for the campaign to become sustainable in the long term and has helped set up a nonprofit to manage the funds. Its name, Yee Ha'oolniido, means "May the Diné people have fortitude." She is also currently training 90 more volunteers, but she said more help is still needed.
"We don't know how long this situation's going to be what it is now," Branch said. "I'm already thinking, like, ok, the people we provided food to initially are gonna need a resupply at some point in the near future term. How do we adapt so that we're able to respond to that continuous need for the next few months at the minimum, it sounds like?"