NBA Players, Celebrities Getting Coronavirus Tests More Quickly Than Sick People
Six NBA teams were able to get their entire teams tested—meanwhile, some of the general public aren't able to.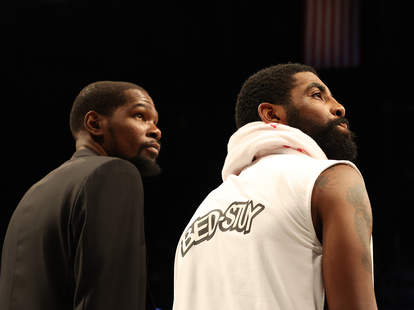 Criticism over the amount of tests for the novel coronavirus being made available to sick people has spiked while athletes and celebrities have been able to easily access tests.
Several people showing symptoms of coronavirus—which includes coughing and fever—have lamented about how difficult COVID-19 tests are to receive. Meanwhile, entire NBA teams, celebrities, and public figures who are asymptomatic seem to have been able to get  tested without any issues. 
Seven NBA players have so far tested positive for coronavirus, most recently, Brooklyn Nets player Kevin Durant, who announced his positive test despite showing no symptoms. The NBA postponed its entire season after two Utah Jazz players tested positive for coronavirus earlier this month. After that, the entire Jazz team was tested and several other NBA teams followed suit, including the Toronto Raptors, the Oklahoma City Thunder, the Philadelphia 76ers, the Los Angeles Lakers, and the Brooklyn Nets. 
On Tuesday New York City Mayor Bill DeBlasio tweeted his criticism toward the Nets' players being tested before people who are actually sick.
We wish them a speedy recovery. But, with all due respect, an entire NBA team should NOT get tested for COVID-19 while there are critically ill patients waiting to be tested.

Tests should not be for the wealthy, but for the sick. https://t.co/7uQlL3zc7Z

— Mayor Bill de Blasio (@NYCMayor) March 17, 2020
A spokesperson for the NBA defended the decision to have the tests, telling ESPN, "Public health authorities and team doctors have been concerned that, given NBA players' direct contact with each other and close interactions with the general public, in addition to their frequent travel, they could accelerate the spread of the virus."
President Trump was asked about his thoughts on the NBA seamlessly receiving tests to which he responded, "'Perhaps that's been the story of life."
 
Reporter on testing: 'Do the well-connected go to the front of the line?'

Trump: 'Perhaps that's been the story of life. That does happen on occasion' pic.twitter.com/npJTQBRx8u

— NowThis (@nowthisnews) March 18, 2020
Other people online also shared similar criticisms over the lack of testing available for people who aren't athletes or celebrities:
The first and most important step of tackling any pandemic is finding out which NBA players are infected

— Patrick Monahan (@pattymo) March 18, 2020
Why aren't we prioritizing health care workers getting tested so they can get back to work? Meanwhile whole NBA teams can get tested right away https://t.co/aIhw0ATuS8

— Brendan Nyhan (@BrendanNyhan) March 18, 2020
The NBA is going to go down as both a cultural landmark for when America took coronvirus seriously, AND as a central player in the unfolding scandal of the disturbing misallocation of resources. https://t.co/UTBFZ2xjfZ

— Mike Duncan (@mikeduncan) March 18, 2020
Dear @BrooklynNets, How did an entire basketball team of asymptomatic people get tests in NY, a place where testing is in such short supply that even health care workers -those at greatest risk, with greatest numbers of contacts, doing the most crucial jobs --can't get ones? https://t.co/x9pjhUbMtk

— megan twohey (@mega2e) March 17, 2020
If you're going to the hospital for a covid-19 test make sure you bring with you a valid form of identification along with a printout of your IMDB page and/or your Basketball Reference stats

— sreekar (@sreekyshooter) March 17, 2020
Weird how sick vulnerable people have to fight to get tested but the entire NBA seems to have gotten the test no problem

— Charlotte Alter (@CharlotteAlter) March 17, 2020
On Tuesday, the White House said their coronavirus task force was working to help laboratories increase their testing abilities across the country. Assistant Secretary for Health Brett Giroir also said that 47 drive-thru testing sites will soon be added in 12 states.