NBA Players Who Have Beat COVID-19 Will Donate Blood For Experimental Treatment
The donations will do toward an experimental therapy that involves the collection of the liquid part of blood from patients who have recovered from infection — called convalescent plasma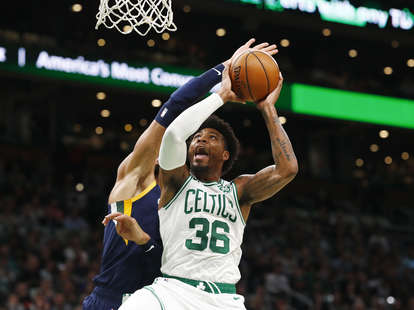 Getty Images/Marcus Smart of the Boston Celtics
Getty Images/Marcus Smart of the Boston Celtics
At least four NBA players who have recovered from COVID-19 plan on donating blood for an experimental treatment that could help patients fight the virus, according to an ABC News report.
The treatment requires the collection of the liquid part of blood from patients who have recovered from infection — called convalescent plasma.The antibodies present in the plasma may help some patients with COVID-19 fight and recover. Though it's not known whether the treatment will be effective, there is "anecdotal evidence" that it could benefit some patients, according to the FDA, and there is currently no cure or vaccine available for the virus.
"We believe it [convalescent plasma] can be disease-modifying and reduce duration and severity in some patients," Dr. Michael Joyner, a Mayo Clinic anesthesiologist and a member of the leadership team of the National COVID-19 Convalescent Plasma Project, told ABC News on Tuesday. The project is a network of doctors, virologists, immunologists, and blood-banking experts working together to study the experimental treatment.
On Sunday, the NBA league office reached out to team physicians, encouraging players who have recovered from the virus to consider participating in the treatment, according to a memo obtained by ABC News. The NBA also reportedly gave a $100,000 donation to the National COVID-19 Convalescent Plasma Project as part of the NBA Together campaign.
The NBA's donation and support of participation in the treatment comes amid ongoing criticism that league players were able to get tested more easily than members of the general public who were experiencing symptoms of the virus.
Marcus Smart of the Boston Celtics announced Monday that he had been cleared of the virus by the Massachusetts Department of Health, and confirmed through his agent that he would donate to the experimental treatment. The identities of the other three players are currently unknown.