NBC Won't Air 2022 Golden Globes After Continued Demand For HFPA Reform
Actor Tom Cruise gave back three of his Golden Globe trophies on the same day NBC announced it would not air the award show.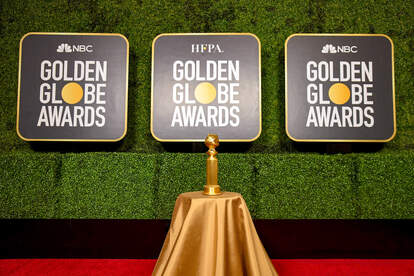 NBC announced it would not be airing the 2022 Golden Globes as the organization that puts on the award show faces mounting pressure to diversify and reform its practices.
The broadcasting giant announced to several outlets on Monday that it would not be hosting next year's Golden Globes to give the Hollywood Foreign Press Association (HFPA) time to enact "meaningful reform." A report from The Los Angeles Times earlier this year found that none of the nearly 90 voting members are Black. The HFPA is a nonprofit organization of international journalists and photographers who focus on the entertainment industry.
"However, change of this magnitude takes time and work, and we feel strongly that the HFPA needs time to do it right. As such, NBC will not air the 2022 Golden Globes," NBC said in a statement "Assuming the organization executes on its plan, we are hopeful we will be in a position to air the show in January 2023."
Film and TV studio giants including Netflix, Amazon Studios, and WarnerMedia have been vocal recently about their concerns with continuing to work with the HFPA as the societal demand for systemic changes grows.
According to a letter that WarnerMedia sent the HFPA, which multiple outlets obtained, executives said they would no longer host events for or invite the organization to press events.
"For far too long, demands for perks, special favors and unprofessional requests have been made to our teams and to others across the industry," WarnerMedia's letter read. "We regret that as an industry, we have complained, but largely tolerated this behavior until now."
A Netflix executive reportedly said in a letter to the HFPA that it would be "stopping any activities with your organization until more meaningful changes are made."
Organizations including GLAAD, The Director's Guild of America, and TIME'S UP have criticized the lack of representation in the HFPA.
On the same day NBC announced it was dropping the award show, actor Tom Cruise returned his three Golden Globes trophies, according to multiple reports. Scarlett Johansson told Variety in a recent interview that she stopped attending HFPA news conferences because of "sexist questions and remarks" and urged others in the industry to distance themselves from the organization.
"The HFPA is an organization that was legitimized by the likes of Harvey Weinstein to amass momentum for Academy recognition and the industry followed suit," Johansson said. "Unless there is necessary fundamental reform within the organization, I believe it is time that we take a step back from the HFPA and focus on the importance and strength of unity within our unions and the industry as a whole."
The virtual 2021 Golden Globes on February 28 saw a dramatic decrease in viewership with a more than 60% drop compared to 2020, according to the Associated Press.