Nearly 100 Universities Make SAT/ ACT Scores Optional Due to COVID-19
With the pandemic forcing testing cancellations, many students starting school in 2021 won't be required to include test scores on their applications.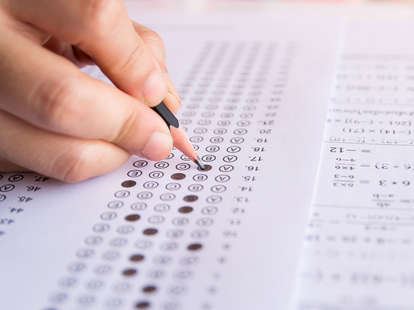 Getty Images
Getty Images
While many high schoolers would be taking the first step in preparing for college applications by taking the SAT or ACT right now, the coronavirus has forced cancellations of both standardized tests. As a result, dozens of colleges and universities have dropped the requirement of both tests.
The College Board, which owns the SAT, cancelled its test dates in March, May and June, with plans to start testing again in August if it's deemed safe by public health standards. ACT Inc. rescheduled its nationwide testing date in April to June. Because of the limited test opportunities, several universities have altered their policies on the tests, making them optional for the high school class of 2021.
Ivy league schools including Harvard, Cornell and University of Pennsylvania have adjusted their application requirements to make the test results optional for students looking to enroll in August 2021, all citing the coronavirus outbreak. Nearly 100 other schools including Baylor University, Boston University, Tufts University, Tulane University, University of California, Vassar College, and Virginia Tech also temporarily changed their policies on testing.
Student advocacy group Student Voice argued that all private and public institutions nationwide should adopt the same policy for first-year students who plan to enroll in fall of 2021. On the group's website, one college administrator from Bowdoin College said that test scores "do not correlate to success on campus." According to Fair Test, more than 1,200 accredited, four-year colleges and universities already have test-optional or test-flexible policies in place.
The University of California's president is urging schools to go even further by suspending testing requirements through 2024. In a memo to the Board of Regents circulated on Monday, Janet Napolitano recommended schools across the state eliminate the requirement for any student who attends public or private high school in California.
When Do High Schoolers Take the SAT or ACT?

While high school students can technically take the SAT during their first year, many choose to take the test during the spring of their junior year into the fall of their senior year, according to the Princeton Review. As for the ACT, many high schools recommend that students take the test during the spring of their junior year because certain math subjects on the test aren't taught until then. Both tests are offered multiple times throughout the year.
Since the coronavirus outbreak has led to limited testing dates and school closures taking away in-person test prep opportunities, juniors preparing for college applications in the fall have less time to take the standardized tests.