New Bill Goes After "Drag Queen Story Hour" at Local Libraries
The Missouri measure was introduced in opposition of events like "Drag Queen Story Hours."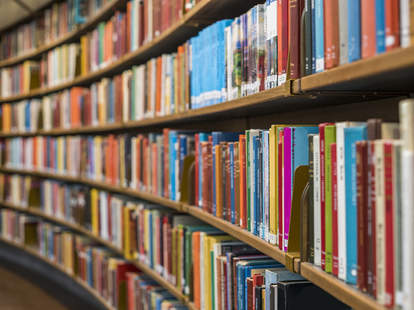 A bill introduced in Missouri could punish public library employees with fines or jail time for providing "age-inappropriate sexual material." The bill, known as the "Parental Oversight of Public Libraries Act," was proposed by Rep. Ben Baker (R-MO) in January, in opposition to events like "Drag Queen Story Hours," the New York Times reported.
"What inspired this bill is becoming aware of what is taking place at our publicly funded libraries with events like Drag Queen Story Hour, and materials that have a clear agenda of grooming our children for the L.G.B.T.Q. community with adult themes and content that fit the description of a objectionable sexual nature," Baker said on Monday.
The bill proposes that libraries set up a parental review panel to evaluate whether the content provided at the library is "age inappropriate sexual material." The panel would be comprised of five residents who aren't library employees. Punishments for libraries providing "inappropriate materials" could include a loss of state funding. Library employees could also be sentenced to up to a year in jail or fined up to $500.
Missouri Library Association president Cynthia Dudenhoffer told ABC news that the proposed bill was unnecessary as library systems already have protocols in place for determining what material is age-appropriate.
 
"Librarians take that stuff very seriously," she said. "It's not like we buy things willy-nilly."