New Prosecutor Will Not Charge White Ferguson Cop Who Killed Michael Brown
The decision mirrors those made by a St. Louis County grand jury in 2014 and the U.S. Department of Justice in 2015 to not charge the officer.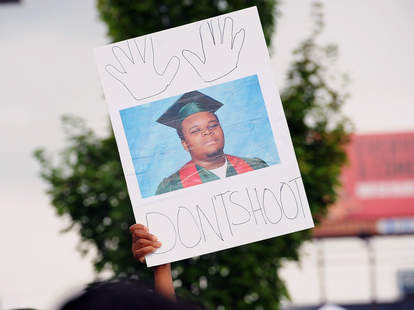 St. Louis County's prosecutor announced Thursday that he will not charge the former police officer who shot and killed Michael Brown in Ferguson, MI nearly six years ago. The decision mirrors those made by a St. Louis County grand jury in November 2014 and the U.S. Department of Justice in March 2015 to not charge white officer Darren Wilson.
"This is one of the most difficult things I have had to do as an elected official," Prosecuting Attorney Wesley Bell said at a press conference announcing the decision.
Two years ago, Bell, who is Black, unseated former prosecutor Robert McCulloch, who led the grand jury process that ended without an indictment for Wilson. The city of Ferguson elected its first Black mayor, Ella Jones, in June.
After Bell was elected, some reportedly hoped he would reach a different conclusion in the case. But after a five-month-long review, Bell came to the same decision.
"Although this case represents one of the most significant moments in St. Louis's history, the question for this office was a simple one: Could we prove beyond a reasonable doubt that when Darren Wilson shot Michael Brown he committed murder or manslaughter under Missouri law?" Bell said. "After an independent and in-depth review of the evidence, we cannot prove that he did."  
However, Bell said the decision does not exonerate Wilson: "There are so many points at which Darren Wilson could have handled the situation differently, and if he had, Michael Brown might still be alive."
In 2014, Ferguson and other cities nationwide saw weeks of protests after Wilson shot Brown, an 18-year-old Black man who had just graduated high school. Wilson resigned following the shooting.
Last year, which marked the five-year anniversary of Brown's death, his family demanded Bell's office reinvestigate the killing. According to local reports, Bell has dodged questions regarding the reopening of the case, and only a few people in his office were even aware the investigation had been reopened — which Bell said was part of an effort to protect the case from outside influence.
After Bell told Brown's mother Lezley McSpadden on Thursday that he would not file criminal charges against Wilson, she asserted that he "didn't do a proper investigation" because he relied on information, interviews, and forensics collected in 2014 during the investigation handled by McCulloch and the St. Louis County Police Department.
McSpadden, who has advocated for police reform in the years since her son's death, ran for Ferguson City Council in 2018, but she did not win. 
Demonstrations have again erupted across the U.S. and world in recent weeks to protest police brutality against Black people. After the police killing of George Floyd in Minneapolis, MN on Memorial Day 2020, crowds across the nation took to the streets to condemn law enforcement and long-held systems and institutions in the U.S. that have allowed systemic racism to plague communities of color.
Many have condemned Bell's ruling and called for continued action against police brutality against Black people.
Every "reform" Wesley Bell mentioned in that presser about Mike Brown's case was about will be done differently after a cop murders someone.

Not a single word about eliminating police murders. Not a single effort at restricting their ability to kill.

For fucking shame.

— ashley yates (@brownblaze) July 30, 2020
I know Michael Brown's family and the citizens of St. Louis was hoping to get justice when a Wesley Bell, a Black prosecutor took office. He did exactly what his white counterpart did, deny the family justice. He needs to be a one-term prosecutor... Get him out of there!!!

— IG: RahiemShabazz (@rahiemshabazz) July 30, 2020
This decision reveals how woefully ill-prepared our justice system is for combating white supremacy. We must continue to protest, and we must continue to vote. My heart goes out to Michael Brown's family, who have been denied justice yet again.https://t.co/zAsycRy0pc

— Alphonso David (@AlphonsoDavid) July 30, 2020