New Study Estimates a Staggering 22M Americans Have No Abortion Rights
The Guttmacher Institute's report found that one reason the number is so high is that the legal murkiness and uncertainty around abortion laws have caused clincs and providers in certain states, such as Wisconsin, to stop offering abortions entirely "out of fear of future prosecution."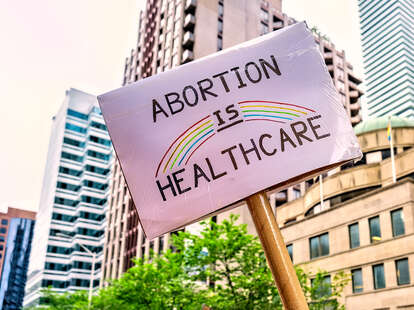 A new study conducted by the Guttmacher Institute assessed the state of reproductive rights exactly 100 days since the U.S. Supreme Court overturned Roe v. Wade and found that approx 1 in 3 American women are living with virually no abortion rights. Per the study, this would total out to roughly 22 million Americans.
The Guttmacher Institute's report found that one reason the number is so high is that the legal murkiness and uncertainty around abortion laws have caused clincs and providers in certain states, such as Wisconsin, to stop offering abortions entirely "out of fear of future prosecution."
But the bigger reason is the fact that, as of October 2, which marked 100 days since the SCOTUS ruling, 15 Republican states have either enacted 6-week abortion bans or entirely outlawed the procedure. Although some of these laws include narrow exceptions, such as in cases of sexual assualt or medical emergencies, Guttmacher found that "those exceptions are designed to be difficult to navigate and are often unusable in practice."
To give you a clear idea of how devastating things have gotten so quickly: On June 24, the same day the Supreme Court overturned Roe, the 15 states were home to 79 abortion clinics. Now, 26 of those clinics have been shut down; 40 only provide services unrelated to abortion; and only 13, all of which are located in Georgia, are still performing abortions.
This means 14 out of 50 states in the U.S. offer no access to abortion providers or services whatsoever. According to the study, approx 125,000 abortions were conducted in those 14 states alone in 2020.
"Altogether, these 15 states are home to almost 22 million women of reproductive age (aged 15–49), in addition to other people who may not identify as women but are capable of becoming pregnant and may need an abortion," the study's authors write.
"That means almost one-third (29%) of the total U.S. population of women of reproductive age are living in states where abortion is either unavailable or severely restricted," the study continues, adding that "the picture that is starting to emerge should alarm anyone who supports reproductive freedom and the right to bodily autonomy."