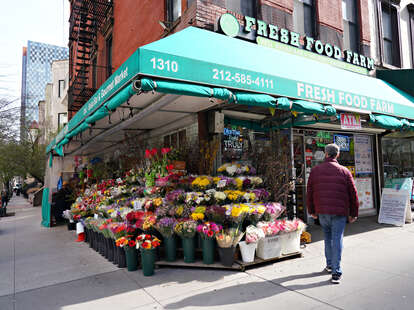 A new app lets bodega customers order from their neighborhood spots online for free.

My Bodega Online lets customers order groceries and deli goods to be delivered from nearby bodegas, the small local grocery stores beloved by NYC residents. And unlike other third-party delivery services like Grubhub, the app will not take a commission from the bodegas for the time being.
The service is convenient, but is especially helpful while stay-at-home measures are in place to help stop the spread of coronavirus. On March 20, New York Gov. Andrew Cuomo mandated that all non-essential NYC workers stay home — but bodegas, along with supermarkets, laundromats, hospitals, and other businesses deemed essential have stayed open.
"We will work for our community. Our clients need us," Bodega and Small Business Association of New York founder Francisco Marte said in a statement on March 21. "The Governor of New York needs us. We want to serve."
The app's founder and CEO José Bello told Timeout New York hadn't planned to launch the app — which was developed in collaboration with the Bodega and Small Business Association of New York — until the summer. But because of the social distancing measures, he and his partners decided to release it early to help drive business to bodegas.
"When we were raising money and looking for investors, there were people who thought a bodega was like a 7-Eleven," Bello said. "It's not a convenience store. If you're from New York, you know it's much more."
According to an Eater report, only some bodegas in the Bronx are currently on the platform, but the app hopes to get over 1,000 NYC bodegas registered over the next six weeks.