New York City Deemed an Epicenter of Coronavirus Pandemic
The state of New York has been hit hardest in the U.S. by the virus and now accounts for roughly 5% of all confirmed COVID-19 cases in the world.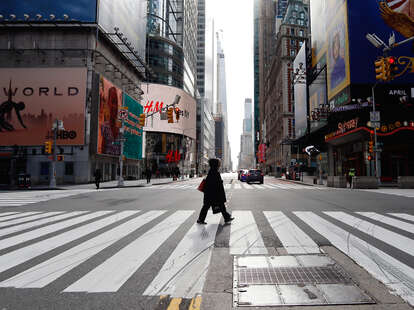 With surging numbers of coronavirus cases, New York City and its surrounding suburbs have now become an epicenter for the deadly virus that has swept the world, leading officials to enact strict measures and mandate shutdowns.
On Monday morning, New York Gov. Andrew Cuomo reported more than 20,000 cases statewide, and 12,300 cases in the New York City region alone. He added that the tri-state area, which includes the neighboring parts of New York, New Jersey, and Connecticut, now has at least 23,000 cases. According to the Johns Hopkins Coronavirus Resource Center, at least 157 people in New York have died, 99 of those in New York City.
Cuomo issued an emergency order for hospitals to increase their capacity by 50% as roughly 13% of those testing positive for coronavirus need to be hospitalized.
The number of cases has increased significantly since the first positive infection was confirmed just three weeks ago. Now, New York state makes up about 5% of the world's confirmed coronavirus cases and accounts for more than half of the cases in the U.S. The total number of infections worldwide has reached more than 350,000 with at least 15,000 deaths.
With the rapid increase in a city that holds roughly 8.3 million people, Cuomo and NYC Mayor Bill de Blasio have had to implement strict measures to contain the spread. As of 8 p.m. on Sunday, all non-essential businesses were mandated to close and nonessential workers were told to stay home statewide. Residents were told to stay indoors except for buying groceries, medication, and for outdoor exercise.
Both de Blasio and Cuomo have said that NYC would not be placed on total lockdown and that public transportation would continue operating for those who need it — though they discourage use of it as much as possible.
"I need every New Yorker to understand how serious the situation is right now," Mayor de Blasio said in a press conference Sunday. "We have to change the way we live if we're going to bend the curve of this epidemic. Do your part: stay home. That is the single most important thing someone can do right now. Protect yourself and save lives: only go out for the essentials."
On Monday, Cuomo said thousands of masks, gowns, gloves, and face shields have been secured for local hospitals lacking supplies in NYC. But Mayor de Blasio said that ventilators are still needed.
"If we don't get the equipment, we're literally going to lose lives," Mayor de Blasio told CNN.
The state also increased its testing capacity from 1,000 people a day to 16,000. FEMA will be adding four temporary hospital facilities in the Javits Center on Manhattan's west side, which will be staffed by federal employees. The Army Corps of Engineers will build additional temporary hospitals at SUNY Stony Brook, SUNY Old Westbury and the Westchester Convention Center.
Cuomo's requested Major Disaster Declaration was approved by President Trump. It involves bringing National Guard troops, federal funding, and more than 1,000 hospital beds to New York.
This weekend, the streets of NYC were eerily quiet, as millions of people remained indoors during the pandemic. Cuomo says the new measures could go on for months.
"We all have to now confront that that is a new reality," Cuomo said Monday. "That is not going to change. You are not going to turn on the news tomorrow morning and they're going to say, 'Surprise, surprise this is all now resolved in two weeks.'"