An Emergency Field Hospital Is Being Built In Central Park
The temporary hospital is designed to serve patients who are seriously ill with COVID-19.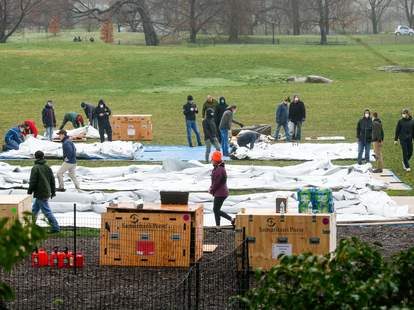 An emergency field hospital is being constructed in New York City's Central Park to treat an inflating number of COVID-19 patients in one of the nation's epicenters of the coronavirus outbreak. 
The Mount Sinai Health System and Samaritan's Purse, a religious humanitarian aid organization, began setting up the hospital on Sunday, March 29, and it is expected to open on Tuesday, March 31. The field hospital, which is made up of tents, will have at least 68 beds, according to a release.
The news comes after the U.S. last week surpassed any other country with the highest number of coronavirus cases. As of Monday, more than 143,500 coronavirus cases have been confirmed in the U.S., according to the Johns Hopkins University tracker. Of those cases, 59,513 cases have been confirmed in New York State, including more than 33,700 in New York City.
As the number of cases skyrocket in the U.S., health care workers have been alerting lawmakers that they do not have enough personal protection equipment, and President Trump on Friday reversed ongoing resistance to order the mass production of ventilators — equipment that patients with severe cases of the respiratory infection need in order to survive.
Samaritan's Purse, an evangelical Christian organization, also set up a similar outdoor, temporary hospital to New York's near Milan, Italy, the country with the second-highest number of coronavirus deaths. The group is led by Franklin Graham, who is the son of Evangelical pastor Billy Graham.
Also in New York, the U.S. Army has been constructing a temporary hospital by the Javits Center in Manhattan, which is reportedly expected to provide at least 2,910 beds.