New York Has Officially Banned Plastic Bags — Well, Some of Them
Plastic bag bans have become more common all over the country, and New York joins the list starting in March.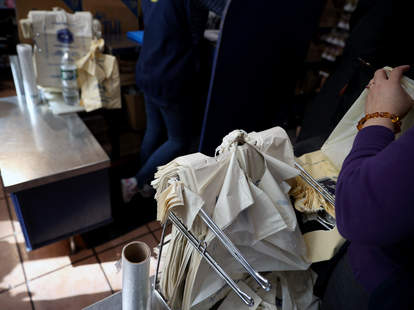 In an effort to significantly reduce single-use plastics, New York banned plastic bags with passage of Senate Bill 1508 in 2019. It joins seven other states that have banned plastic bags, including California, Vermont, and Hawaii.

As of March 1st, retailers statewide will be prohibited from giving out single-use plastic bags, but the Department of Environmental Conservation (DEC) will not begin enforcing the ban until April 1. Stores that don't comply with the ban will get a warning, then a $250 fine if warned a second time. Further violations within the same calendar year will cost $500.

Restrictions don't extend to every bag—plastic bags used for prepared foods, takeout, and prescription drugs are among a few exemptions. People can also ask for paper bags, but they'll have to pay a 5-cent fee in New York City and a few other counties (unless they are part of the SNAP program.)

On February 17, the DEC released final regulations regarding the ban with updated language to hopefully avoid loopholes. City officials have also been ramping up efforts to convince New Yorkers to #BYOBagNY, including distributing hundreds of thousands of reusable bags. Some have argued that the ban will be an annoyance, particularly for men and pet owners, but others are welcoming the change, saying it will help cut the billions of single use plastic bags New Yorkers normally use annually.
Plastic bag bans have been increasingly popular across the country. California became the first state to enact a ban on single-use plastic bags in 2014. In addition to New York, five other states enacted legislation in 2019 including Connecticut, Delaware, Maine, Oregon and Vermont. Some cities, including Boston, Chicago, and Seattle, have also implemented bans.
To learn more about the ban, check out our video below: