New Zealanders Are Placing Teddy Bears In Their Windows For A Nationwide Movement
The bears are a lighthearted distraction for children and parents while the country is on lockdown amid the coronavirus pandemic.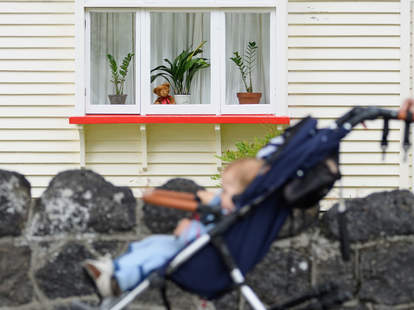 Getty Images/A teddy bear is seen in a window as a child in a pram passes by on March 29, 2020 in Christchurch, New Zealand.
New Zealanders are bringing a little joy to their neighborhoods by placing teddy bears in their windows amid the country's lockdown.
Mother and part-time school administrator Deb Hoffman started a Facebook page called "We're Not Scared - NZ Bear Hunt," along with a website, urging people to "Put a teddy bear in your window facing the road and as people are out getting fresh air and exercise, they can enjoy the bears around their neighbourhood."
The inspiration for the hunt came from the children's book "We're Going on a Bear Hunt," written by Michael Rosen and illustrated by Helen Oxenbury.
Since the website's setup, people have been able to pin the locations of their bears, and so far, thousands of people have pinned the stuffed animals they've displayed in their neighborhoods. However, the website specifies that "the hunt is for your local streets, we are not encouraging travel across town to view other streets."
"Please don't go driving around for your hunt, but if you are on your way to essential services—make sure you keep an eye out for new bears!" it continues.
On March 25, New Zealand enacted a four-week lockdown to slow the spread of the virus, that still allows residents to go outside for exercise, essential services, (and bear-spotting) if they keep a safe distance from one another.
Unfortunately Rosen, the author of the book that inspired the movement was recently hospitalized from suspected coronavirus symptoms. On his Twitter account, his wife Emma-Louise Williams wrote that he is "still poorly but continuing to improve."
"He has been able to eat today & will be getting a more comfortable oxygen mask soon. All good signs," she continued. "He does know you've all been rooting for him with this lovely wave of support."