Recording Of Newborn Daughter's Heartbeat Helps Mother Hospitalized With COVID-19
Emelia Herrera reportedly woke up three weeks after she was admitted to the hospital to learn she'd given birth.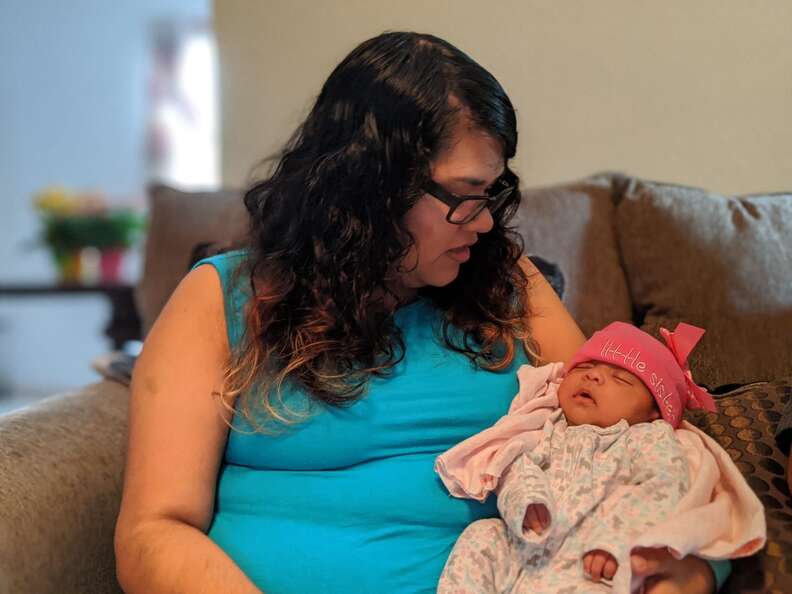 Houston Methodist / Emelia Herrera and Selina
A Texas mother who was infected with COVID-19 wasn't able to meet her newborn daughter until a month after she was born. But recordings of their heartbeats helped the mother and daughter bond, according to multiple reports.
Emelia Herrera was 35 weeks pregnant when she tested positive for COVID-19, the Houston Chronicle reported. Her symptoms continued to worsen until she became so ill that she was rushed to the hospital on April 8 and immediately put on oxygen.
"They didn't even put me in the waiting room," Herrera told the Chronicle. "They took me straight to a room and started giving me oxygen. And I basically blacked out after that."
According to the Chronicle, which first reported the harrowing story, Herrera woke up three weeks after she was admitted and learned that she'd had an emergency C-section on her first day. Since Herrera had to remain in the ICU and on a ventilator — and her husband in quarantine — the baby girl, Selina, had to stay with Herrera's mother along with her other 3-year-old daughter.
Herrera could reportedly only see her husband and two daughters via video chat, so music therapists at Houston Methodist, where Herrera was treated, offered to record the newborn's heartbeat for her to listen to while she recovered.
The music therapists recorded Selina's heartbeat for Herrera and her husband and set it to Christina Perri's "1,000 years," which was the parents' wedding song. They also recorded Herrera's heartbeat and set it to "Twinkle Twinkle Little Star," so that Selina could listen to her mom's heartbeat, Good Morning America (GMA) reported. The couple also received a recording of Grant Gustin's "Running Home to You" that has both their heartbeats mixed together.
Music therapist Virginia Gray told GMA that the heartbeat recordings helped Herrera feel close with Selina, and benefited the baby, who never got skin-to-skin contact with her mother immediately after birth.
"Starting at about 25 to 35 weeks [during pregnancy], babies can hear low-base sounds and they have been hearing their mother's heartbeat," Gray explained. "Since she couldn't hear her mom's heartbeat, it'd be important for the baby's regulation to be able to hear her mother's heartbeat and voice."
According to reports, Herrera was finally released to meet Selina on May 9, more than a month after the baby's birth.
"I'm just so thankful that I'm alive and that I'm able to see my daughters through and be part of their lives," she told GMA. "I've seen so many similar cases to the one that I had and most of them died. That's what impacts me the most, that I could have died."