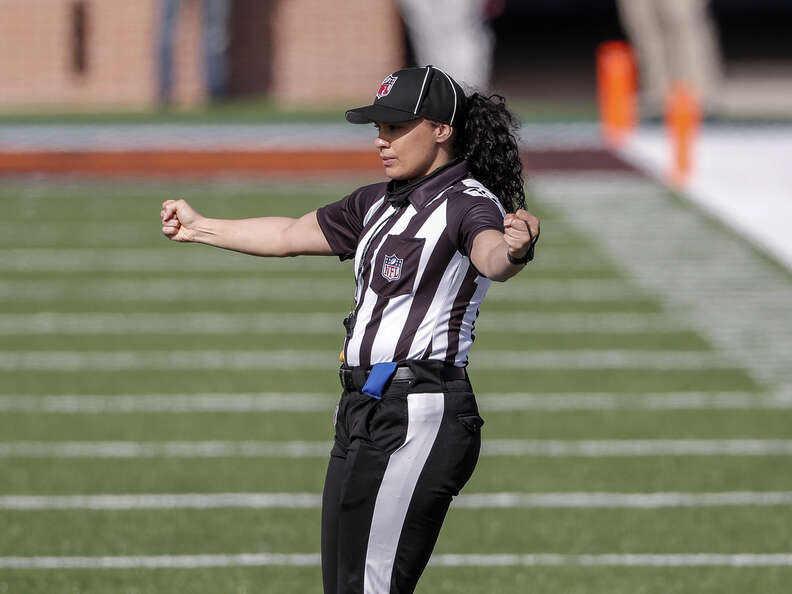 Maia Chaka has made history as the NFL's first Black woman referee.
The league released a statement on Friday announcing Chaka joined the NFL's officiating roster for the upcoming 2021 season. Chaka is only the second woman official in NFL history — Sarah Thomas was hired by the NFL in 2015 and broke a barrier in February by becoming the first woman to officiate a Super Bowl.
"I am honored to be selected as an NFL official," Chaka said in a statement. "But this moment is bigger than a personal accomplishment. It is an accomplishment for all women, my community, and my culture."
Chaka joins the NFL with an extensive background in officiating, including refereeing college-level games, the Pac-12 Conference, and Conference USA, according to the NFL. In 2014, Chaka was tapped for an NFL program that develops collegiate-level officials into professional-level referees. She also works as a health and physical education teacher in Virginia Beach.
"Maia's years of hard work, dedication and perseverance – including as part of the NFL Officiating Development Program – have earned her a position as an NFL official," NFL executive Troy Vincent, Sr. said in a statement. "As we celebrate Women's History Month, Maia is a trailblazer as the first Black female official and inspires us toward normalizing women on the football field."
Chaka told NBC's "TODAY" that it takes patience to be a good referee, and the will to "recover from" mistakes.
"You also need to make sure that you are very decisive in that whatever decision you make, you stand by it," Chaka continued. "It's not necessarily how many mistakes that you make, it's how you recover from all those mistakes that you make."