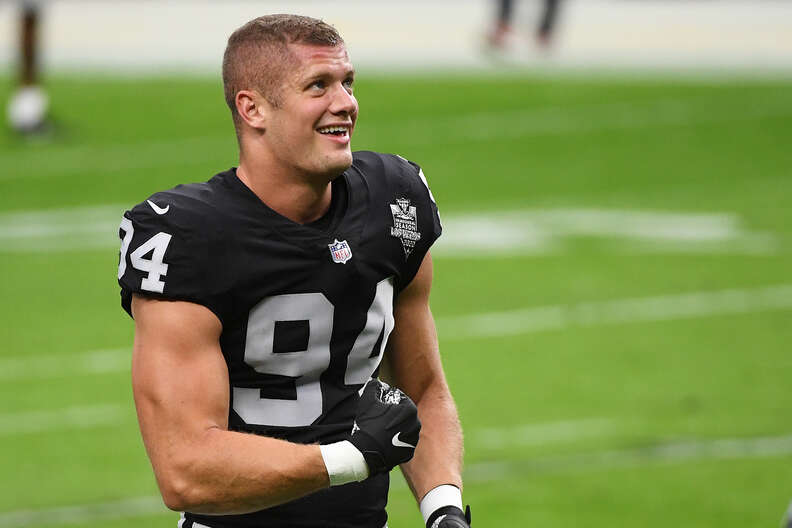 Las Vegas Raiders player Carl Nassib, 28, took to Instagram on Monday to publicly come out as gay, making him the first active NFL player to be openly LGBTQ+.
"What's up people?" Nassib said in his video. "I just wanted to take a quick moment to say that I'm gay. I've been meaning to do this for a while now, but I finally feel comfortable to get it off my chest."
The defensive lineman and NFL veteran added that he has the "best life, got the best family, friends, and job a guy could ask for."
"I'm a pretty private person so I hope you guys know that I'm really not doing this for attention, I just think that representation and visibility are so important," he continued. "I actually hope that like, one day, videos like this and the whole coming out process are just not necessary. But until then, I'm gonna do my best and do my part to cultivate a culture that's accepting, that's compassionate, and I'm gonna start by donating $100,000 to The Trevor Project."
The Trevor Project is a suicide prevention and crisis center that caters to LGBTQ+ youth by providing resources, counseling, and a community.
Nassib's coming out video was a major first for the NFL, which has never had an active player come out as gay. Michael Sam, who was drafted by the Rams in 2014 but was cut before playing a game, was the first openly gay player to be drafted. Ryan Russell, another former player, came out as bisexual in 2019 after he was listed as a free agent.
In the comments on his post, Nassib's teammates Darius Stills and Maxx Crosby showed their support by saying they were "proud." They weren't the only ones to offer Nassib encouragement — the NFL player was flooded with positive comments and tweets writing their support for Nassib. Tennis legend Billie Jean King wrote: "Your bravery will be an important part of your legacy. Thank you for sharing, and cheers to living authentically!"
Here are some of the many positive reactions to Nassib coming out: