NHL Pauses Season, MLB Delays Opening Day
Both sports leagues made their announcements on Thursday afternoon—one day after the NBA suspended its season due to coronavirus concerns.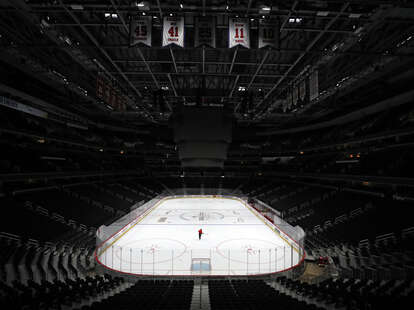 The National Hockey League (NHL) and Major League Baseball (MLB) have joined the NBA in suspending and delaying their seasons as a safety precaution against the novel coronavirus.
On Thursday afternoon, NHL Commissioner Gary Bettman released a statement saying the league would temporarily "pause" the season effective immediately. Bettman said the league did not want to take "unnecessary measures," adding, "However, following last night's news that an NBA player has tested positive for coronavirus — and given that our leagues share so many facilities and locker rooms and it now seems likely that some member of the NHL community would test positive at some point — it is no longer appropriate to try to continue to play games at this time."
Bettman said that the league hopes to continue the season as soon as possible.
The MLB made a similar announcement hours later on their website saying that it would delay opening day by at least two weeks and cancel the remainder of spring training as of 4 p.m. Thursday.
"This action is being taken in the interests of the safety and well-being of our players, Clubs and our millions of loyal fans," the statement read.
The league also added that the 2020 World Baseball Classic Qualifier games in Tucson, Arizona would be postponed indefinitely. They said they will announce changes in the season's schedule when appropriate.
The two announcements from both professional leagues comes one day after the NBA announced a Utah Jazz player tested positive for COVID-19 and that they would suspend the season until further notice. On Thursday, the NBA confirmed a second case of coronavirus as Jazz players Donovan Mitchell and Rudy Gobert announced they tested positive on Instagram.