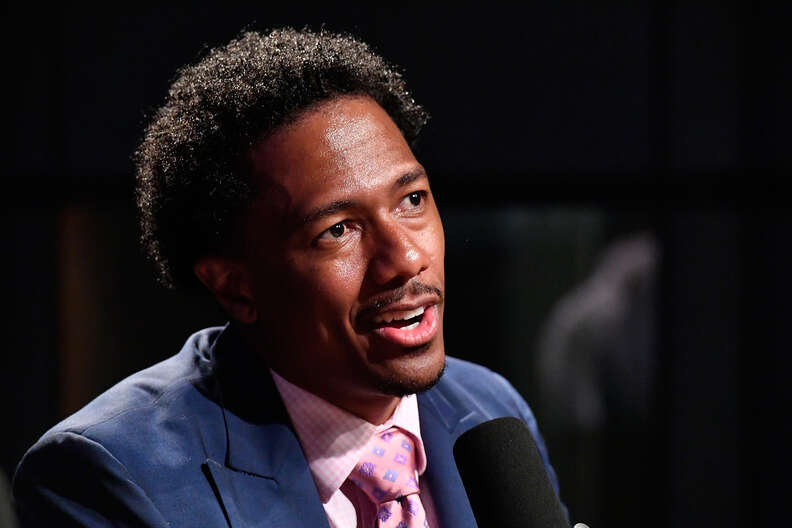 ViacomCBS has cut ties with host, producer, and performer Nick Cannon after an episode of his podcast included what the company called "hateful speech" and "anti-Semitic conspiracy theories." Cannon, a longtime entertainer with the company, posted a lengthy Facebook post after his firing, in which he ultimately apologized for the comments.
During the June 30 episode of the podcast he hosts, "Cannon's Class," the 39-year-old featured Richard "Professor Griff" Griffin, a musician and former member of rap group Public Enemy who has a history of making anti-Semitic comments.
Cannon praised Griffin for being the most "outspoken" member of Public Enemy and brought up his dismissal from the group after Griffin put out what Cannon called "information" about the Jewish community.
Griffin also brought up the term "anti-Semitic" and said, "Who are the Semitic people?" He then said the definition of "Semitic" has "absolutely nothing to do with any white people," and that in order for him to be anti-Semitic, he would have to be "anti-Black man, anti-Black woman, anti-Black people." Cannon replied to Griffin's comments saying, "The Semitic people are Black people."
Griffin was dismissed from Public Enemy in 1989 after he said in an interview with The Washington Times that "The Jews are wicked." He went on to say at the time that Jews are responsible for "the majority of wickedness that goes on across the globe." He's also a supporter of Nation of Islam leader, Louis Farrakhan, who has repeatedly touted anti-Semitic rhetoric and conspiracy theories that include blaming Jewish people for 9/11.
In the Public Enemy song "Bring The Noise," some lyrics praise Farrakhan: "Farrakhan's a prophet and I think you ought to listen to/ What he can say to you, what you ought to do is follow for now."
Farrakhan's comments include calling the Jewish religion "Satanic" and the "Synagogue of Satan." He also said Jews "have infected the whole world with poison and deceit," according to the Anti-Defamation League.
Griffin denied on the podcast that he's a "Jew-hater" and said, "I just ran down the history given to me by my elders." He went on to say that during the 1989 interview with The Washington Times, interviewer David Mills' Jewish girlfriend was present and was offended by Griffin naming Jewish people who "control" media and entertainment.
"No hatred involved, I'm just laying out the history," Griffin said to Cannon about the interview. Cannon continuously told Griffin that he is "speaking the truth."
Cannon then compared Griffin being ousted by Public Enemy to "the Honorable Minister Farrakhan" being "silenced" on Facebook. In 2019, Facebook banned Farrakhan from its platform as part of its policy to ban "dangerous individuals and organizations."
Cannon also brought up several conspiracy theories about the Jewish community controlling the banking system, as well as the Rothschild family, saying there "is no hate involved" in those theories—which have been said to be anti-Semitic.
"You can't be anti-Semitic when the Semitic, we are the Semitic people," Cannon said. "That's our birthright."
ViacomCBS said in a statement to multiple outlets that "ViacomCBS condemns bigotry of any kind and we categorically denounce all forms of anti-Semitism."
"We have spoken with Nick Cannon about an episode of his podcast 'Cannon's Class' on YouTube, which promoted hateful speech and spread anti-Semitic conspiracy theories," the statement continued. "While we support ongoing education and dialogue in the fight against bigotry, we are deeply troubled that Nick has failed to acknowledge or apologize for perpetuating anti-Semitism, and we are terminating our relationship with him."
In his facebook post, Cannon railed against ViacomCBS.
"I will not be bullied, silenced, or continuously oppressed by any organization, group, or corporation," Cannon wrote. "I am disappointed that Viacom does not understand or respect the power of the Black community."
He also claimed that the conglomerate "chose to ban all [advertisements] that supported George Floyd and Breonna Taylor." (NowThis reached out to ViacomCBS for comment.)
Cannon also claimed he reached out to ViacomCBS chair Shari Redstone directly to apologize for his comments on the podcast but was not answered. (A representative for Redstone told Billboard that those claims are "absolutely untrue.")
"They wanted to show me who is boss, hang me out to dry and make an example of anyone who says something they don't agree with," Cannon said. "As we all know Hollywood and the media is a dirty business. Still, I honestly can't believe that Viacom has such poor council that would allow them to make such a divisive decision in the midst of protests and civil uprising within our current pandemic."
Cannon also said he received an "outpouring of love and support" from the Jewish community and then apologized for the comments that were made.
"I must apologize to my Jewish Brothers and Sisters for putting them in such a painful position, which was never my intention, but I know this whole situation has hurt many people and together we will make it right," he said. "I have dedicated my daily efforts to continuing conversations to bring the Jewish Community and the African American community closer together, embracing our differences and sharing our commonalities."
Cannon worked for ViacomCBS for more than 20 years, he said in his post. He has acted and produced a number of shows and movies, and has hosted MTV's long-running show "Wild 'N' Out", NBC's "America's Got Talent," and Fox's "The Masked Singer," among others.