Nightclub Needle Attacks Are Mysteriously on the Rise in Europe
Spain is the latest country to fall victim.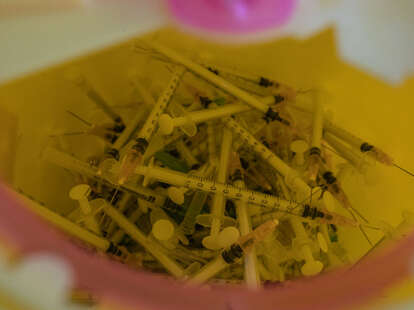 Authorities in several European countries are reporting a rise in "needle prickings" at nightclubs, concerts, and other public spaces in recent months without many leads about about the perpetrators or their motives. It now seems like Spain is the latest country to be affected.
At least 50 women in Spain have reported cases of being pricked with medical needles while going out recreationally. According to the Associated Press, 23 of the attacks took place in Catalonia.
The emerging cases in Spain follow a wave of incidents that were registered across Great Britain, France, Belgium, and the Netherlands earlier this year.
What may be most alarming about the rise of needle attacks is how inexplicable or random they appear. Authorities have not yet linked a clear motive to the vast majority of the needle prickings, and despite hundreds of cases on record in 2022, no victims have reported sexual assault. Only one victim, in April 2022, claimed to have been robbed.
A handful of victims were found with drugs in their systems. Police in Spain detected traces of ecstasy in a 13-year-old girl in Gijón who reported feeling a sharp prick. At least two people in France tested positive for GHB, a potential date rape drug, in their system, per a June 2022 AP report.
Spanish health officials are urging anyone potentially affected to call emergency services and seek medical treatment as soon as possible.