No, The Federal Government Won't Make You Carry A Vaccine Passport
Vaccine passports have become the latest contentious issue of the pandemic, as mostly Republicans assert that requiring proof of vaccination would limit freedom.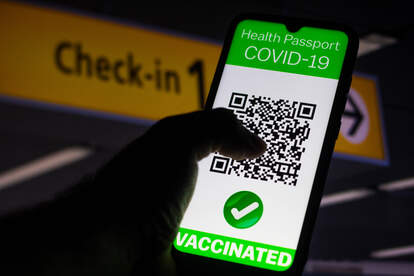 "Vaccine passports" have become the latest source of COVID-19-related tension, as Republican leaders and other public figures denounce requiring this certification to travel or participate in certain aspects of public life in the U.S. A vaccine passport can prove that a person has been fully vaccinated, allowing them to safely travel and move more freely without high risk of infection. In recent weeks, such passports have become a frequent topic of debate on conservative media.
The White House confirmed Tuesday that the federal government will not enact a nationwide vaccine passport program — unlike other countries including China and Iceland. The White House's latest stance came after President Biden in January included assessing "the feasibility" of digitizing vaccine certificates in a COVID-19 response plan.
"The government is not now, nor will we be supporting a system that requires Americans to carry a credential," White House Press Secretary Jen Psaki said on Tuesday. "There will be no federal vaccinations database and no federal mandate requiring everyone to obtain a single vaccination credential."
Psaki said the federal government would essentially punt the task of organizing vaccine passports to the private and nonprofit sectors, adding that "Americans' privacy and rights should be protected."
The overall debate is not without potential consequences. The increasing politicization of vaccine passports could further fuel hesitancy among GOP members to get the shot, NBC News reported.

So, will vaccine passports be required? And who's mad about it?

Even if the federal government isn't planning to require proof of vaccination for travel, several organizations and states are.
New York and Vermont last month announced out-of-state travelers would no longer be required to quarantine if they have been fully vaccinated, with specific terms for each state. Sports and entertainment venues including Madison Square Garden and Barclays Center in New York City will require fans to show proof of vaccination in order to attend indoor events. The Miami Heat also announced it would allow fully vaccinated fans to attend games in a special section of the arena.
As COVID-19 vaccination becomes a standard requirement for more organizations, many people have already sounded the alarm about the practice limiting freedom.
Texas Gov. Greg Abbott (R) on Tuesday banned "government-mandated vaccine passports, following a similar recent move from Florida Gov. Ron DeSantis (R). Gov. DeSantis said it's "completely unacceptable" for an organization or business to require vaccination records and signed an executive order banning individual businesses and government entities from requiring proof of vaccination.
Tennessee Gov. Bill Lee (R) said this week that vaccine passports "are a bad idea" and that the government should not "impose vaccine requirements or mandates in any way" — even though no local government in his state reportedly has tried doing so. Unlike DeSantis, Lee said the government shouldn't be involved in "private affairs of business practices."

Vaccine passports, as a concept, aren't new

Celebrity doctor Drew Pinsky faced backlash on Monday after tweeting that vaccine passports "segregate people and strip them of their freedom to travel internationally." But many people quickly pointed out that certain vaccinations have long been required when traveling internationally; several countries in parts of Africa require a yellow fever or malaria vaccination before entry. The U.S. requires immigrants to be vaccinated for certain diseases, including measles, mumps, and rubella, according to the CDC.
Vaccination records have long been an important requirement at schools. During the late 1800s and early 1900s, a smallpox outbreak was sweeping through parts of the U.S. The smallpox vaccination, which at the time left a distinctive mark on a person's arm, was required to enter schools, voting booths, places of employment, and even at clubs and social gatherings.
While the U.S. does not have a universal system, several international airlines are testing out using a digital travel pass from the International Air Transport Association (IATA) that would curate passengers' testing and vaccination data in one place. Similarly, the European Union is working to develop a Digital Green Certificate designed to help people in Europe safely travel.