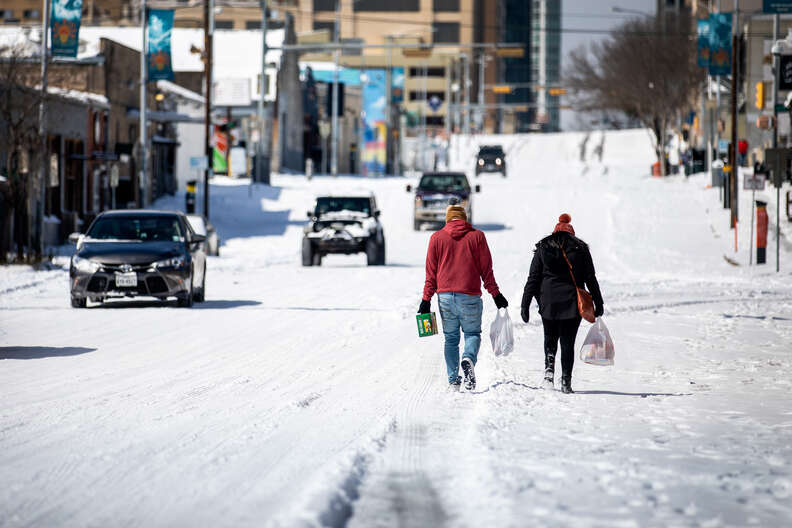 Millions of people in Texas went without power and heat for days after a severe winter storm led to electrical grid blackouts. While right-wing politicians and media have blamed renewable energy resources, including wind turbines, as scapegoats for the deadly blackout, several experts have debunked those claims.
Record-breaking freezing temperatures have continued in Texas and across the South all week. At least 47 people have died as a result of the extreme weather as of Thursday, according to the Washington Post.
Fox News and Fox Business falsely blamed renewable energy and related policies for the Texas blackouts 128 times over two days, according to a tally from progressive watchdog Media Matters for America. The networks pushed the disinformation "after the bogus claim had already been debunked," tweeted MMFA researcher Lis Power on Thursday.
The Electric Reliability Council of Texas (ERCOT), which manages 90% of the state's electric grid, said on February 17 that 61% of the downed energy sources were from natural gas, coal, and nuclear power, according to KARE11. Texas primarily relies on natural gas to supply the state's energy.
"It's unequivocally not the case that renewables are causing these issues," Emily Grubert, an engineer and assistant professor at Georgia Tech, said in an interview with NowThis. "So to not see the politics actually lining up with the severity of the situation and really focusing on peoples' safety has been really frustrating."
Gov. Greg Abbott (R-TX) used the crisis to attack the Green New Deal on Fox News, calling the progressive policy proposal "a deadly deal for America."
"If the Biden administration is going to try to eradicate fossil fuels in the United States, every state is going to constantly have challenges that everyone has seen in Texas," Abbott said.
But experts say a bulk of the catastrophe is due to the state's failure to winterize its energy equipment (like wells, pipes, and valves) — or rather officials' decision not to do so in order to save costs. "Texas officials knew winter storms could leave the state's power grid vulnerable, but they left the choice to prepare for harsh weather up to the power companies — many of which opted against the costly upgrades," the Texas Tribune reported.
El Paso, which is part of the national grid instead of the state's, has largely retained power throughout the storm, unlike the rest of the state on the ERCOT grid. The border city winterized its equipment after a freezing storm 10 years ago, KVIA reported.
What happened with wind energy in Texas during the winter storm?
It's true that wind energy in Texas partially failed during the storm because the blades of some turbines became coated in ice, according to ERCOT senior director Dan Woodfin. But he says wind energy is responsible for a small portion of the state's power, particularly in the winter, and in this case, wind shutdowns accounted for less than 13% of total outages.
With proper preparation, wind turbines can function in cold environments by using "ice mitigation systems and heating for some of the equipment," Bloomberg News reported, citing researchers at an Arctic site in Sweden.
"We've seen a lot of struggling across fuel types in Texas," Grubert told NowThis. "I'm not saying wind performed well, but the major, major problems we've seen have been associated with thermal energy generators, like nuclear, coal, and natural gas, as having big problems."
The Green New Deal is designed to help plan for more extreme weather
Grubert responded to Abbott's claims about the Green New Deal and said that the "core ideas" of the deal "try to focus precisely [on] these types of problems, where we do see a lot of extreme events" disproportionately affecting "the most vulnerable people among us."
"So thinking about an integrated system design that can actually provide us with a clean and reliable power and also help us protect people against these very dangerous situations is a big part of the reason why the Green New Deal is as comprehensive as it is," Grubert said.
The takeaway from the current crisis in Texas, Grubert said, should be that companies and governments should design energy systems holistically to protect people during extreme weather events — which are occurring more frequently in many parts of the world because of the climate crisis.
Meanwhile, TX Sen. Ted Cruz (R) was photographed flying with his family from Houston to Cancun on Wednesday night and faced major blowback for leaving the state in the middle of a crisis.