Many Patients Can't Access Telehealth Services. These Students Stepped In.
A group of students started a nonprofit in March that donates smart devices and tech support to elderly and low-income patients needing telehealth.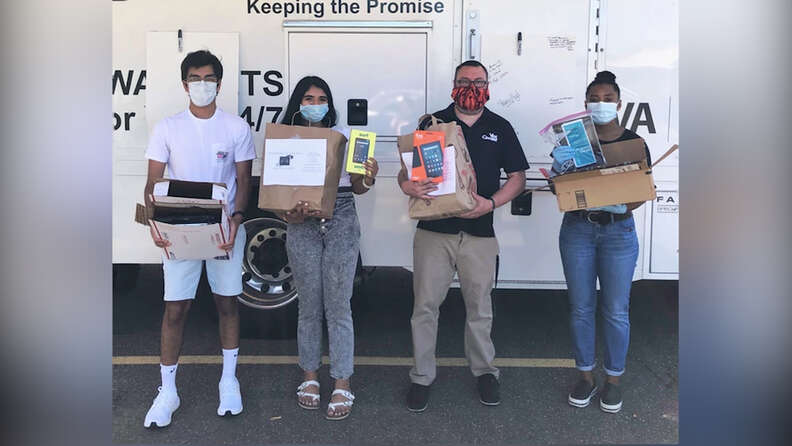 Siddharth Jain, Aakshi Agarwal, and Alexandra McCraven drop off devices at the Hartford Vet Center​ in Connecticut.

| Telehealth Access For Seniors
Siddharth Jain, Aakshi Agarwal, and Alexandra McCraven drop off devices at the Hartford Vet Center​ in Connecticut.

| Telehealth Access For Seniors
As businesses shut down and people were confined to their homes when the COVID-19 crisis altered everyday life, many basic medical services went completely digital. While telehealth could seem accessible to most people, some older patients and people living without smartphones, tablets, or laptops have been left without options.
Two Yale students and one high schooler started a nonprofit called Telehealth Access For Seniors that provides smart devices and tech support to elderly and low-income patients. After the nonprofit's founders spoke directly with health care providers and saw firsthand their grandparents' struggling with telehealth appointments, they decided to take action.
Co-founder Aakshi Agarwal was studying molecular biology and political science at Yale when the pandemic forced her college to close the campus and shift online in March. As a rising senior, Agarwal kept busy at home, volunteering her time with the nonprofit she started with Yale classmate Hannah Verma and high schooler Arjun Verma.
Agarwal said many elderly patients live with chronic conditions that require regular check-ups with a doctor and some of them either don't have a smart device or struggle with using the technology. While medical workers have aimed to treat their patients without risking a COVID-19 spread, Agarwal said, the lack of access to some patients made that difficult.
The organization expanded after Agarwal said the founders saw a similar need beyond elderly people. She told NowThis: "Our goal is really to bring telemedicine access to thousands of low-income patients."
According to Pew Research Center data from last year, 81% of people in the U.S. said they have a smart device of some kind. But the report found only 53% of people over the age of 65 had those devices. Infectious disease experts have warned for months that COVID-19 often affects elderly patients more severely than others—CDC data shows that 8 in 10 COVID-19-related deaths were reported in people over the age of 65.
The nonprofit has so far donated more than 1,200 devices to 75 partner clinics including hospitals and veterans affairs centers in 26 states, Agarwal said. The organization also recently received a $20,000 donation from Goldman Sachs to help boost their cause. Along with donating devices, the nonprofit offers technical support to users who need help accessing telehealth services.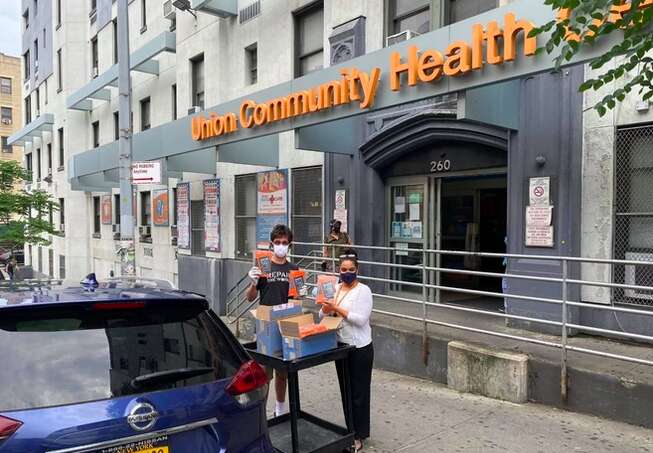 During the crisis, COVID-19 has disproportionately affected lower-income communities. In April, when the virus was ravaging the northeast and particularly New York, data showed low-income neighborhoods in the greater New York City area were hit hardest by COVID-19, while mostly white and wealthier neighborhoods had fewer cases.
The nonprofit pinpointed areas and healthcare facilities that most needed help, including the Union Community Health Center in the Bronx, where they donated 40 new devices.
"Very impoverished patients don't have devices," Agarwal told NowThis. "No one else has ever asked them if they have a device for telemedicine."
Agarwal said Telehealth Access For Seniors hopes to donate 2,500 devices by the end of the year, and their next hurdle is WiFi access. The group plans on working with internet providers to bring WiFi to people during a time when public spaces with internet access have largely been shut down.
The need for mental health services in a time of high-stress and isolation is also essential, Agarwal said. Last month, a survey conducted by The Census Bureau found an uptick in the average percentage of adults who reported symptoms of anxiety disorder and depressive disorder during the pandemic.
With the help of volunteers and donations, Telehealth Access For Seniors has expanded into a national movement. In the organization's short existence, it has shipped out donated devices and accessories to hospitals, VA centers, and clinics nationwide. To get involved in the nonprofit, visit the team's website here.