Northern Ireland Legalizes Abortion and Same-Sex Marriage
The vote was decided at midnight on Monday, ending the previously restrictive laws.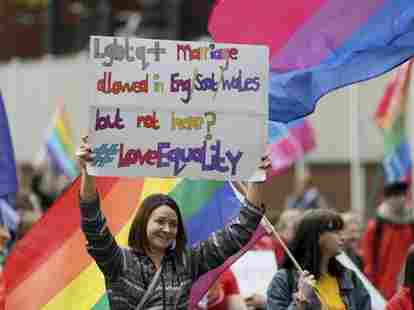 UK parliament moved to legalize abortion and same-sex marriage in Northern Ireland today, ending the restrictive laws that were once in place. The vote in London was overwhelmingly in favor of change, with 383 votes to 73 in favor of same-sex marriage, and 332 to 99 in favor of decriminalizing abortion.
The country's previous laws banned abortion, even in cases of rape, incest, and fatal fetal abnormality, leaving women to go abroad for abortion services, or take illegal termination pills bought on the internet. Those who sought illegal abortions would once potentially face maximum sentences of life in prison. 
The law dates back 1861 in Northern Ireland, despite the rest of the UK (England, Wales, Scotland) legalizing the procedure in 1967, and The Republic of Ireland legalizing abortion in 2017. Previous attempts to legalize both abortion and same-sex marriage were blocked by the socially conservative Democratic Unionist Party.
British parliament passed an amendment about the two issues in July, after Northern Ireland's power-sharing government collapsed almost three years ago. They were given until October 21 to restore their devolved government, otherwise the new laws would kick in.
Campaigners have been working for decades to end the criminalization of both same-sex marriage and abortion in the historically conservative and religious region. It was a joyous occasion at midnight in Belfast, where supporters could be seen hugging and dancing.
"Free to choose if, when and how many children they will have in the care of health-care professionals. This is a very emotional day for many here," said Pro-choice campaigner, Dawn Purvis.
Same-sex couples will be able to get married starting on Valentine's Day, February 14, 2020, while access to abortion services will go into effect March 2020. Until then, women will not be prosecuted for seeking abortions.