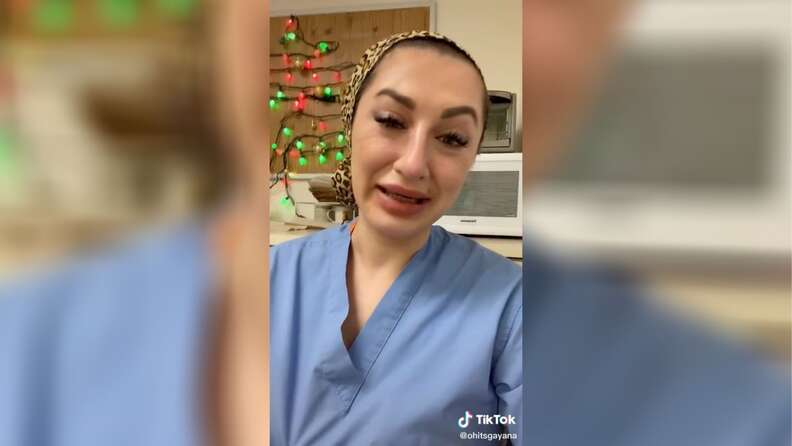 Gayana Chuklansev pleads for people to "stop being careless" amid the pandemic.

| TikTok/ohitsgayana
Gayana Chuklansev pleads for people to "stop being careless" amid the pandemic.

| TikTok/ohitsgayana
A California nurse made an emotional plea for people to "stop being careless" as COVID-19 cases continue to rise and people are "dying like flies," and her video has been viewed more than 1 million times on TikTok.
Gayana Chuklansev, who is a California surgical intensive care nurse, posted a tearful video on the platform last week emphasizing how overwhelmed and under-resourced she and other staff members are amid the pandemic.
"Patients are dying like flies," she said in the video. "We're full, we're at max capacity, we have no resources, we have no staff."
"Our doctors can't even intubate, because they have, like, 40 patients each," she continued.
She also spoke out against those who believe overwhelmed nurses caring for COVID-19 patients "signed up for this."
"We didn't sign up to watch patients die because we physically cannot help them," she says. "So please stop being careless."
As of Tuesday, Chuklansev's video has been viewed 1.3 million times with more than 390,000 likes and 12,000 comments, including many offering sympathy and kind words.
As of December 29, the state of California has reported over 2 million cases, resulting in over 20,000 deaths. According to the official website for California's Coronavirus Response, the entire state has 0% ICU availability.
Throughout the pandemic, many other medical professionals have posted videos begging people to adhere to measures meant to slow the spread of the virus as they treat an excess of patients.