Plainclothes NYPD Officers Shown Pulling Protester Into Unmarked Van Draw Outrage
Elected officials in New York have condemned the arrest and drawn parallels to tactics used by federal agents deployed by the Trump administration in Portland.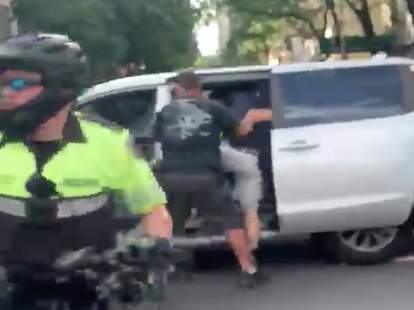 Several plainclothes police officers were captured on video throwing a protester into an unmarked van in New York City on Tuesday.
Although the New York Police Department and New York City Mayor Bill de Blasio confirmed the city's police made the arrest, many have compared the tactic to those used by federal agents deployed by the Trump administration in Portland, OR.
On Wednesday, Oregon Gov. Kate Brown (D) announced that the agents who "brought violence" to Portland will be leaving. 
Footage captured of the incident, which took place near Second Avenue and East 25th Street in Manhattan, shows officers in shorts and t-shirts wrestle a protester into an unmarked Kia van. As other demonstrators attempted to approach the scuffle, with some screaming in protest, one officer charged toward them and told them to "get back." Uniformed officers on bikes then formed a barrier around the vehicle. The van then sped off down the street. Many outlets, citing authorities, have identified the protester as 18-year-old Nikki Stone.
The NYPD said in a statement on Twitter that the woman was taken into custody in the unmarked van and was "wanted for damaging police cameras during 5 separate criminal incidents in & around City Hall Park." The department also said that the officers at the scene were assaulted with rocks and bottles — a claim that protesters who were present at the sight have refuted.
"None of that happened whatsoever," 20-year-old Clara Kraebber told Gothamist. "We literally turned the corner and were met with a line of police who attacked us without warning."
A video of the arrest's aftermath also shows one officer yelling at the demonstrators to step back while holding what appears to be a large spray bottle.
Here's my full video of what happened on 25th & 2nd in NYC! Keep in mind this was a peaceful protest that was headed to Madison Sq Park for a meditation & an unmarked van snatched a protester & NYPD started attacking us! #BLM pic.twitter.com/USUGgIDDIH

— Lauren (@feistymexarican) July 28, 2020
Footage of the incident quickly spread online with many, including lawmakers, condemning the NYPD's tactics.
"This is not a drill. There is no excuse for snatching women off the street and throwing them into unmarked vans," Rep. Alexandria Ocasio-Cortez (D-NY) tweeted. "To not protect our rights is to give them away. It is our responsibility to resist authoritarianism."
NYC Council Member Carlina Rivera also called for an independent review "for why an unmarked van full of officers was anywhere near a peaceful protest."
Many also drew parallels between the Tuesday incident and recent instances in Portland, where federal officers have pulled demonstrators off the streets into unmarked vans. 
Agree with @CarlinaRivera here: with anxiety about what's happening in Portland, the NYPD deploying unmarked vans with plainclothes cops to make street arrests of protestors feels more like provocation than public safety. https://t.co/UDfiJOWWUW

— Brad Lander (@bradlander) July 29, 2020
On Wednesday, de Blasio iterated that "This is not Portland," and that "what you see on that video is NYPD officers." He also said he thought "it was the wrong time and the wrong place to effectuate that arrest."