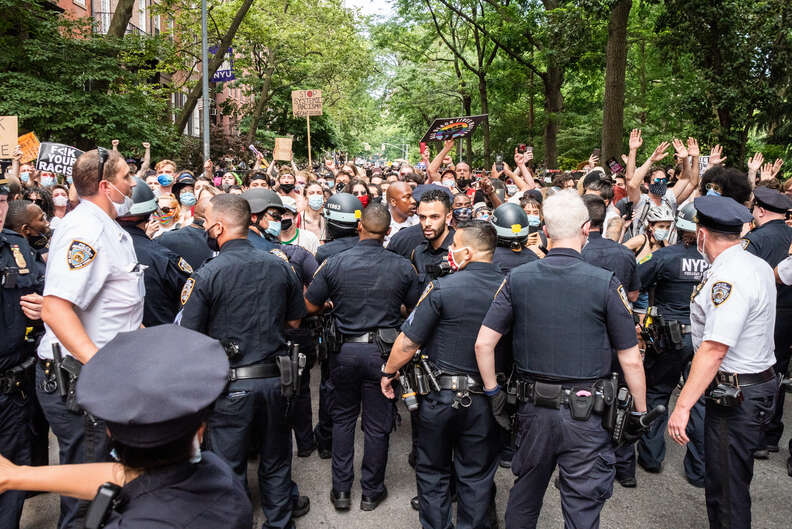 NYPD officers were shown in videos and photos using their batons and pepper spray and shoving peaceful protesters. Credit: Gabriele Holtermann-Gorden/ Reuters
NYPD officers were shown in videos and photos using their batons and pepper spray and shoving peaceful protesters. Credit: Gabriele Holtermann-Gorden/ Reuters
New York City police officers appeared in multiple videos pepper spraying protesters and using aggressive force during a peaceful Pride march on the anniversary of the Stonewall Inn riots that sparked the LGBTQ+ movement. Advocates including GLAAD have condemned law enforcement's response.
Thousands of people attended the Queer Liberation March for Black Lives Matter and Against Police Brutality on Sunday afternoon, gathering in downtown Manhattan after the city's annual Pride parade was canceled this year due to coronavirus. Dozens of videos and photos show police officers shoving crowds of marchers and using their batons and pepper spray against demonstrators.
Organizers estimated that 50,000 people attended the march.
According to multiple reports, the largely peaceful protests became more violent during a rally in Washington Square Park where police attempted to arrest a man for tagging a cop car with graffiti.
An NYPD spokesperson told NowThis on Monday that officers arrested three people, though a legal observer told Gothamist that police arrested at least four people.
Attendee Mike Perles told Gothamist that before the police arrived at Washington Square Park, marchers were celebrating and dancing.
"We were dancing right in front of the arch on 5th ave and out of nowhere, cops started storming into the crowd," Perles, who is reportedly a city employee, told Gothamist. "They pushed everyone in front of them out of the way and onto the ground. They pushed a reporter who was taking photos down and started randomly pepper spraying people. I couldn't see anyone instigating. It seemed like they felt out numbered after entering a huge group and panicked and started beating people up."
The organizers of the march, Reclaim Pride Coalition, put out a statement Sunday calling the NYPD's intervention in the march "a vast and brutal overreaction." Organizers also said officers "punched and violently shoved" marchers and slammed a woman on a bicycle to the ground.
"I wish that I could say what I saw today was shocking, but how could I reasonably expect anything else from the NYPD?" Jake Tolan, one of the march organizers, said in the statement. "51 years after the Stonewall Rebellion, the NYPD is still responding to peaceful, powerful, righteous queer joy with pepper spray, batons, and handcuffs."

The celebration continued into early Monday near the Stonewall Inn, where an uprising in response to police brutality helped ignite the modern Pride movement 51 years ago. On June 28, 1969, police raided the historic gay bar, inciting a days-long riot.
Last year, former NYPD Commissioner James O'Neill apologized on behalf of the NYPD for the actions of police officers that sparked the 1969 riots.
"I do know that what happened at Stonewall should not have happened," O'Neil said during a 2019 Pride Month community safety briefing. "The actions taken by the NYPD were wrong, plain and simple. The actions and the laws were discriminatory and oppressive, and for that I apologize."
Several people have criticized New York City Mayor Bill de Blasio for tweeting about his support of the LGBTQ+ community on the anniversary of the movement despite police response to this year's protests. (De Blasio has been under fire in recent weeks, after he ran on a platform of improving the city's relationship with police.)
Several city officials expressed their disappointment in Sunday's events, including Manhattan Borough President Gale Brewer and New York City Council Speaker Corey Johnson.