Oath Keepers Leader and Others Charged With "Seditious Conspiracy" in Ongoing Jan 6 Probe
Eleven members of the far-right organization known as the Oath Keepers were indicted on seditious conspiracy charges in connection with the Capitol insurrection.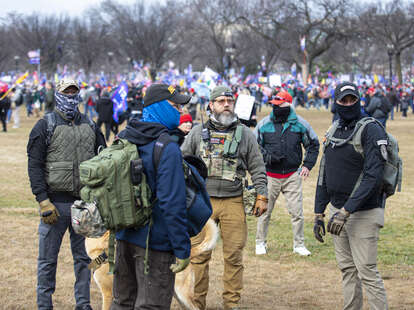 The Justice Department has heightened its investigation into the January 6, 2021 Capitol riot, issuing its first series of seditious conspiracy charges to several members of the far-right Oath Keepers militia group.
Stewart Rhodes, 56, the group's founder and leader, was arrested yesterday and charged, along with 10 other Oath Keepers members and associates, in relation to the insurrection.
The indictment against them alleges that Oath Keepers took extensive preparatory measures prior to January 6, such as conferring about how to overturn the results of the 2020 presidential election and readying themselves for a riot by purchasing weapons and drawing up attack plans.
Though a seditious conspiracy charge carries the same punitive weight as an obstruction charge, it is exceedingly rare, and has a history of being politically loaded as well as difficult for the Justice Department to enact against defendants.
Rhodes, a former Army paratrooper who has a Yale law degree, has been a subject of scrutiny since last spring, when he took part in an interview with FBI agents. Shortly after President Joe Biden won the 2020 election, Rhodes began to tell fellow Oath Keepers to reject the notion of Biden's victory, writing in an encrypted chat app, "We aren't getting through this without a civil war. Too late for that. Prepare your mind, body, spirit."
The "stop the steal" theory, emboldened and encouraged by former President Donald Trump, has been cited as a key catalyst for the siege that unfolded just over a year ago in Washington, D.C.