Obama Eulogizes John Lewis: He Challenged "An Entire Infrastructure Of Oppression"
A powerful essay written by the Civil Rights leader and longtime Congressman was published by the New York Times on the same day he was laid to rest.
President Barack Obama hugs Rep. John Lewis, Democrat of Georgia, one of the original marchers at Selma, during an event marking the 50th Anniversary of the Selma to Montgomery civil rights marches.

| Getty Images
President Barack Obama hugs Rep. John Lewis, Democrat of Georgia, one of the original marchers at Selma, during an event marking the 50th Anniversary of the Selma to Montgomery civil rights marches.

| Getty Images
The civil rights trailblazer and longtime Congressman John Lewis (D) used some of his last moments to write a letter to activists in America, praising them for demanding "respect for human dignity." The New York Times published the essay Thursday, the same day as the late politician's funeral service.
Lewis died on July 17 at the age of 80 after a fight with pancreatic cancer — in the midst of a nationwide movement against systemic racism and police brutality. Though he was fighting stage IV cancer at the time, the Georgia Congressman said in his essay that he "had to" visit the newly-dubbed Black Lives Matter Plaza in Washington D.C. He was admitted to the hospital the next day.
"I just had to see and feel it for myself that, after many years of silent witness, the truth is still marching on," Lewis wrote.
Former Presidents Bill Clinton and George W. Bush, along with House Speaker Nancy Pelosi (D-CA), all spoke at Lewis' funeral on Thursday in Atlanta, GA at the historic Ebenezer Baptist Church— where Dr. Martin Luther King, Jr. served as a pastor and where his funeral was held.
President Barack Obama was one of the last speakers to deliver a eulogy for Lewis, who was a friend and mentor to the former president. Obama called him a man of "pure joy and unbreakable perseverance." He also praised Lewis for his long history of fighting for civil rights and called him Dr. King's "finest disciple."
"Imagine the courage of two people, [Lewis and Bernard Lafayette] Malia's age—younger than my oldest daughter. On their own, to challenge an entire infrastructure of oppression," Obama said. "John was only 20 years old. But he pushed all 20 of those years to the center of the table, betting everything, all of it, that his example could challenge centuries of convention and generations of brutal violence and countless daily indignities suffered by African Americans."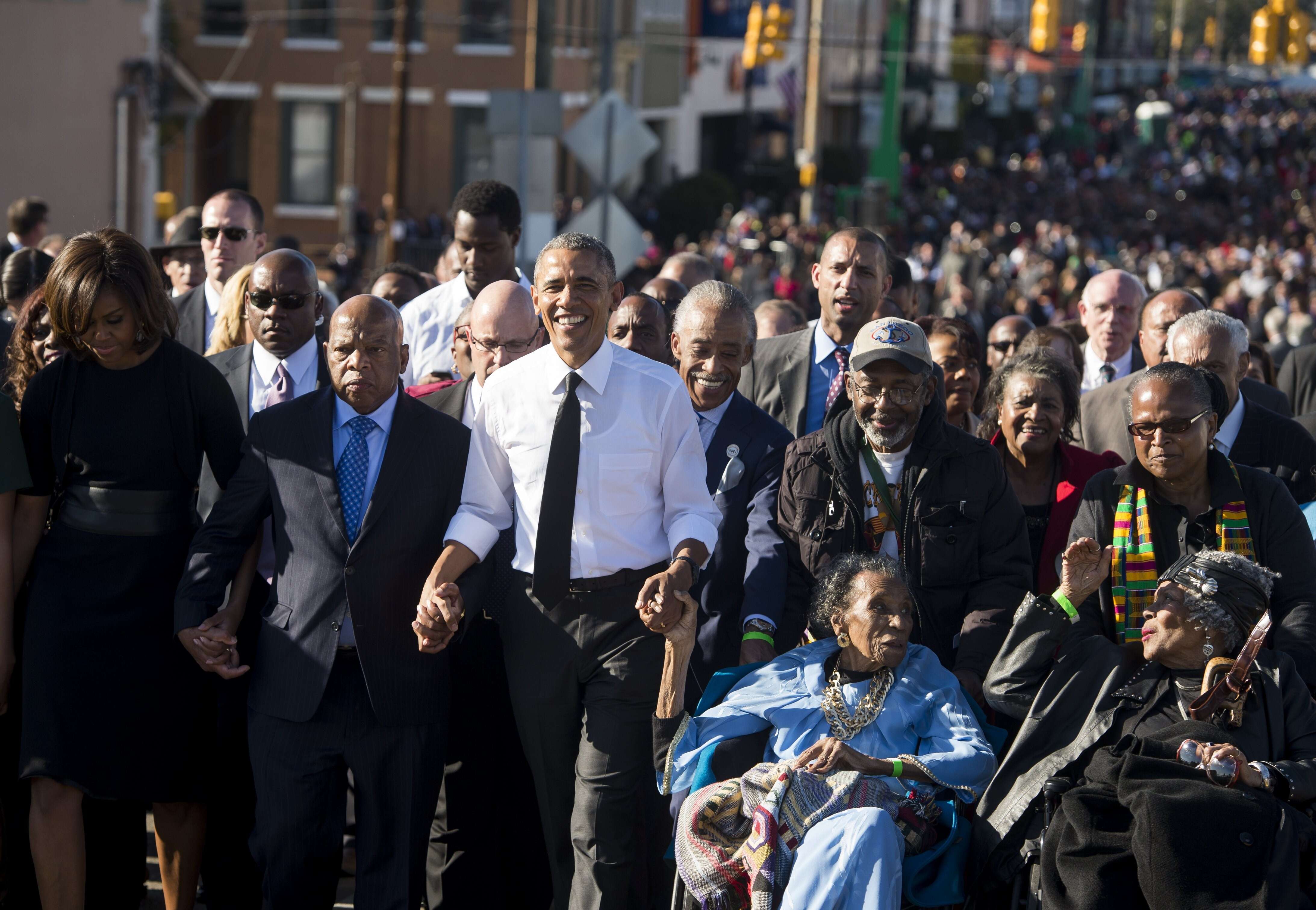 In his essay, Lewis compared his early start in activism to the experiences of young people who are now "searching for a way out."
The late Lewis played a major role in the Civil Rights Movement in the 1960s alongside Dr. King, leading three Selma to Montgomery marches and sit-ins in Alabama. He was known as one of the "Big Six" leaders, and his activism led more Americans to challenge white supremacy and segregation and fight for voting rights.
In his essay, Lewis recounted the fear he felt as a Black man living in America — a sentiment many people continue to feel following the killings by police of Breonna Taylor, George Floyd, and Rayshard Brooks. Lewis said "it became so clear" that he could have "easily" been Emmett Till, a Black teenager who was lynched in 1955 in Mississippi after allegedly whistling at a white woman.
"Fear constrained us like an imaginary prison, and troubling thoughts of potential brutality committed for no understandable reason were the bars," Lewis wrote. "Unchecked, unrestrained violence and government-sanctioned terror had the power to turn a simple stroll to the store for some Skittles or an innocent morning jog down a lonesome country road into a nightmare."
Lewis reiterated his notable philosophy of getting into "good trouble" in his essay, encouraging people to act when they "see something that is not right."
"Democracy is not a state. It is an act, and each generation must do its part to help build what we called the Beloved Community, a nation and world society at peace with itself," Lewis wrote. "Ordinary people with extraordinary vision can redeem the soul of America by getting in what I call good trouble, necessary trouble."
During his eulogy, Obama also spoke extensively about voting rights and voter suppression that disproportionately affects minority voters — a cause that Lewis fought for throughout his career. Obama called out the federal government's attacks on the U.S. Postal Service ahead of a momentous election, during which mail-in voting will be more prevalent because of the COVID-19 crisis.
The House approved a new proposal this week to rename voting legislation after Lewis, calling it the John R. Lewis Voting Rights Act. The House passed new legislation in December to restore a key component of the Voting Rights Act, which the Supreme Court invalidated in 2013.
On Thursday, President Trump, who did not attend Lewis' funeral, floated the idea of postponing the election — which he can't actually do — and repeated baseless claims about mail-in voting and fraud.
Meanwhile, President Obama credited his political career to Lewis, adding that the late congressman was one of the first people who he greeted and hugged after his 2008 inauguration, telling him, "This is your moment, too."
Lewis will be buried in South View Cemetery, where Dr. King and other well-known Black leaders have been buried.
"Though I may not be here with you, I urge you to answer the highest calling of your heart and stand up for what you truly believe," Lewis wrote in his final essay. "In my life I have done all I can to demonstrate that the way of peace, the way of love and nonviolence is the more excellent way. Now it is your turn to let freedom ring."