Obama, Shaq, And Charles Barkley Urge Black Americans To Get Vaccinated
President Biden also announced that all adults in the U.S. are now eligible for the COVID-19.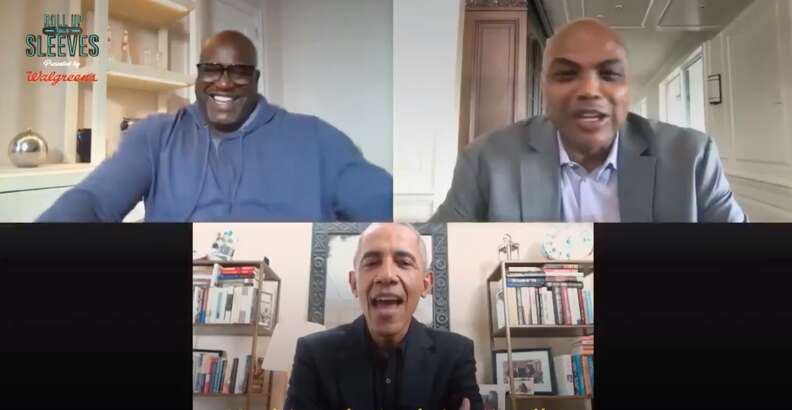 Former President Barack Obama teamed up with former NBA stars Charles Barkley and Shaquille O'Neal to encourage communities of color to get the COVID-19 vaccine. Getting the vaccine has been a hot-button issue for Black Americans due to distrust of the healthcare system, even as the virus has disproportionately affected people of color.
Celebrities, athletes, medical experts, and President Joe Biden made appearances during the NBC special "Roll Up Your Sleeves" on Sunday night. The special was part of a collaboration with media company ATTN: and Walgreens that focused on promoting the COVID-19 vaccine, as every adult in the U.S. is now eligible for it.
Obama was joined via video chat by O'Neal and Barkley, who both said they're vaccinated and urging friends and family members to get the shot.
"Now, as the vaccine becomes more available, I want to make sure that our communities, particularly ones — African American, Latino — as well as young people, understand that this will save lives and allow people to get their lives back to normal," Obama said. "The sooner we get more people vaccinated, the better off we're going to be."
"I think it's important for us to keep talking about the vaccine," Barkley said. "So I'm telling all my friends, 'Yo man, forget what happened back in the day,' every Black person, please go out and get vaccinated."
During the COVID-19 pandemic, many Black people have pointed to the 1932 syphilis experiment based in Tuskegee, Alabama that fueled lingering skepticism about medical initiatives promoted by the government. According to the Centers for Disease Control and Prevention, the study lasted for 40 years and involved hundreds of Black men. Researchers misled participants about the experiment and never treated their Syphilis. In addition to that experiment, the Black community has experienced decades of disparities in health care.
"The irony is that when you know about the Tuskegee experiment, what was going on there was the government withheld treatment that was available for Black men for Syphilis," Obama said. "It wasn't that they made them sick by giving them medicine, it's that they didn't give them medicine they needed. And here's a situation where if the medicine is available, we need to take it."
The COVID-19 pandemic has disproportionately affected people of color in the U.S., who have seen higher rates of infections, hospitalizations, and deaths. According to a survey from the Kaiser Family Foundation, about 55% of Black adults said they'd get the vaccine in March, an increase from 41% in February.
O'Neal said Sunday that his family has a history of underlying health conditions, which is why it was important for them to get vaccinated.
Obama pointed to the prevalence of health problems such as diabetes among communities of color, and the resulting vulnerability to severe cases of COVID-19.
The former president added that young people have a misconception that if they contract COVID-19, it might be like a "bad cold."
"Part of what we're seeing now is there's a different strain of the virus that's come over. That's now the dominant variant, and it's actually hitting young people harder than the original version," Obama said.
He continued: "Part of the reason to get vaccinated is because it makes everybody safer. And it's the same reason why, by the way, you know, we don't have things like polio anymore."
Biden appeared at the event and announced that all adults in the U.S. would be eligible for vaccination as of Monday.
"It's free, it's convenient, and it's the most important thing you can do to protect yourself from COVID-19, including the new variants we're seeing," Biden said. "Look, we're making tremendous progress, but we're still in the race against this virus, and we need to vaccinate tens of millions of more Americans."
Zinhle Essamuah contributed to this report.