This Virtual Graduation Ceremony Got Zoom-Bombed With A Racist Attack
Other online gatherings of college students have been disrupted by messages of hate during the coronavirus outbreak.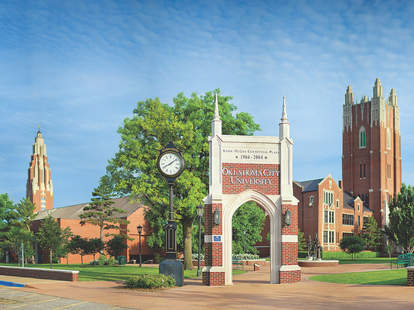 Courtesy of Oklahoma City University
As graduates' names scrolled across the screen during a virtual graduation ceremony, a hacker's racist message disrupted their moment of recognition. 
 
The Oklahoma City University ceremony on Saturday was one of many across the country that have shifted to an online format, so students who are achieving a milestone can still celebrate during a deadly virus outbreak that has forced millions of people to stay inside.
 
The OCU ceremony drew 650 digital attendees and was upended by a message containing a racial slur and a swastika, according to multiple reports. On Sunday, a small group gathered outside of the university to post signs of encouragement with messages like "Love Not Hate."
People gathered outside the university campus to post signs of encouragement the day after the ceremony.

| Josh Robinson/OCU
"My grandma, my mom saw it, and they were really heartbroken," OCU graduate Leondre Lattimore told local news outlet KOCO. "All we saw was the n-word and a swastika."
 
Devaunjue "Jay" Williams, a Black student who led a prayer during the ceremony shortly before the hacking, posted a tearful Facebook video on Saturday responding to the incident. In both presentations, he appeared in front of a rainbow "Coexist" flag — the last visual the class saw before the attack. In his video after the ceremony, he said he learned about how to coexist during his time in school.
 
"We'll heal. We'll overcome. We'll continue to fight for justice," Williams said. "People are gonna be mad. People are gonna be upset, for whatever reason. Our people are going to continue to prosper. We're going to continue to do good things."
 
He added: "If you hate us just because of the way we look, that's on you, not on us."
 
Oklahoma City University President Martha Burger immediately condemned the attacks, and Zoom responded via Twitter to her thread on Monday, saying, "We are deeply upset to hear about this...We will escalate [the issue] to our trust and safety team." 
 
The university police are working with federal officials to investigate the incident, university spokesman Rod Jones said. Burger said the university "took safety precautions" in using the digital platform and will "pursue every avenue available to ensure that those responsible are held accountable under the law."
 
"We are heartbroken and outraged at the hate-filled attack that occurred at the end of our virtual graduation celebration today. During a time that should have been focused on recognizing our graduating students, an unknown source was able to bypass the system and display racist and offensive language," Burger said in a statement to NowThis. "I want to be clear, OCU stands against racism, bigotry, and anti-Semitism."
 
Rep. Kendra Horn (D-OK.), who represents much of Oklahoma City, also denounced the attacks.
 
"I am heartbroken and angered by the racist and anti-Semitic actions that defaced today's Oklahoma City University graduation ceremony," Horn tweeted. "It is especially tragic that this hate-filled attack marred a day meant for celebration..."
As schools have shifted to virtual meeting programs during the coronavirus outbreak, college gatherings at the University of Southern California and the University of Florida have also been interrupted by hackers, according to The Washington Post. In March, the FBI sent a warning that reports of "Zoom-bombing" of school gatherings were growing, and that the hackings involved "pornographic and/or hate images and threatening language."
 
After the attack, the OCU Twitter account quoted Williams' prayer: "Where there is injustice, may we not be silent. Where there is harm, may we be makers of peace. Where there is hate, may we be agents of love."