Olympic Athletes Have Taken Over TikTok. Here Are Some Of The Best Videos
Athletes have become social media stars after giving the people what they want: the behind-the-scenes action at the Tokyo Olympics.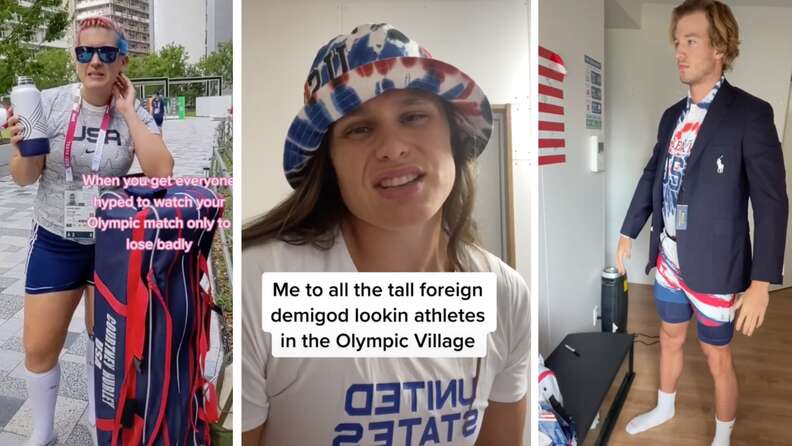 Olympians have skyrocketed to fame this year not only for their athletic abilities in the world's most notable competitions but because of TikTok.
Many Olympic athletes have taken to the video-sharing app to show the behind-the-scenes life in the Olympic Village and have proven to the world that the games are essentially just one giant summer camp. The International Olympic Committee (IOC) lifted its previously strict rules about social media use for the 2020 Tokyo Olympics, allowing athletes to document almost anything they'd like, aside from the actual games. TikTok has become flooded with Olympic content and has given millions of viewers a rare glimpse into life at the Games.
After being given the green light, the Olympians delivered. Here are some of the best TikToks:



Team USA gymnast Sunisa Lee celebrates her gold medal
Japanese fencer Kaito Streets relives his, ahem, injury
And show's viewers a day in the life
Nigerian basketball player Erika Ogwumike also gives a glimpse into her day
Basically anything Ilona Maher has posted:
Japanese surfer Kanoa Igarashi responds to people thirsting after him
Team USA swimmer Drew Kibler trying on all of his Olympic gear
English sprinter Laviai Nielsen answers some hard-hitting questions
And showed everyone how often she gets COVID-19 tested
Raven Hulk Saunders of Team USA's track and field is in disbelief that she's at the Olympics
Irish rugby player Harry McNulty trying to say hi to Americans
American diver Tyler Downs wanting to get Simone Biles's attention
American fencer Courtney Hurley being able to joke about a loss
Erik Shoji of Team USA volleyball tests out the food in the dining hall
Cody Melphy shows what Team USA rugby does between games
And shows off the Olympic Village
Team USA's women's swimming casually goofing around in the Olympic pool
And finally, the official Olympics TikTok trying to convince people of the real reason behind the cardboard beds